Recalc Vertex Normals
This addon manipulates vertex normals, stores them into an object property and
displays them in OBJECTMODE.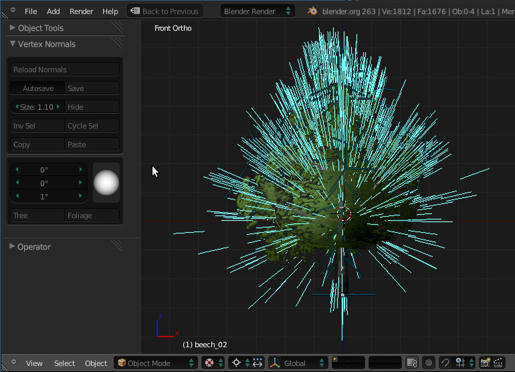 Usage:
First apply rotation and scale to the (mesh)object and set its shading to smooth.
Then go into editmode, toggle Autoreload/Autosave on and start editing.
Reload Normals:
Reloads previously saved normals.
Save/Autosave:
Every manipulation of the normals has to be saved, either manually with the
Save Button or by toggling Autosave on.
Size:
Changes normal display size.
Show / Hide:
Toggles the drawing of normals for visual feedback while editing.
Inv Sel:
Inverts vertices selection.
Cycle Sel:
Cycles through vertices on by one.
Copy / Paste:
Copies the normal of one selected vertex and pastes it to one or more selected vertices.
Translation / Direction thingies:
This controls can be used to assign a specific normal to selected vertices.
Normals will be saved directly after editing when Autosave is on.
Tree button:
For trees place the 3d cursor inside the tree, select the leaf vertices. The
unselected vertices will be skipped by the script, so the tree trunk and branches
will keep their unedited normals.
The leaf vertices normals will all point away from the 3d cursor location.
Foliage button:
For ground foliage select the vertices which will have ground contact, their
normals will be aligned to global z axis. The unselected vertices normals will
be pointing away from the 3d cursor.
Tested with blender 2.63
DL: http://www.mediafire.com/?vq7lckbu7q2uvo0
EDIT: Updated version for Blender 2.66:
DL: http://www.mediafire.com/view/?j8jla56bla0cae4
EDIT: New Version for Blender 2.66: