I need some advice on which is the best way to handle building the dungeon for my RPG project.
You can get some background about the project from my blog here.
Right now I'm using prefabs* for my dungeon, they have a north south east and west section for each "room":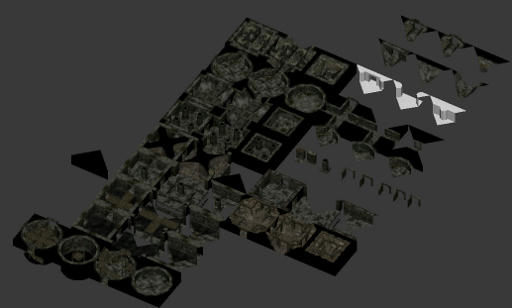 The basic tileset.

A prefab is a ready made room, or room part. They can be combined together by code in the right combination to create open or closed rooms, with or without doors or transitions.
This has several advantages, and also several disadvantages. Firstly I can have curved rooms, I can have tunnels and other interesting shapes. The tilesets can look quite nice with a little work. On the other hand I can't easily get the navigation data before building the map and once the map has been built I can't make changes to the layout, like having active pit traps or believable secret doors. Although the rooms are interesting, they are quite repetitive, and it takes a lot of effort to make even a few different variations. Also rooms are constrained to one size.
A newer version of the tileset with a lot of variant parts for making more interesting rooms.
To create a tile set is a real headache too. Planning how to lay out the UVs, trying to cram as much detail in to one set as possible so there can be a lot of variations… it takes days to make a single tile set, and I need dozens.
One other approach I've thought about is making the maps completely tile based, just like a traditional roguelike.
A tile based floor.
In this case I'll be able to make the base tilesets very easily, and quickly. We can't have as many different room shapes, so different tile sets are going to be mostly differentiated by their color and textures. It's a bit old fashioned, which is sometimes something that I like, but not always.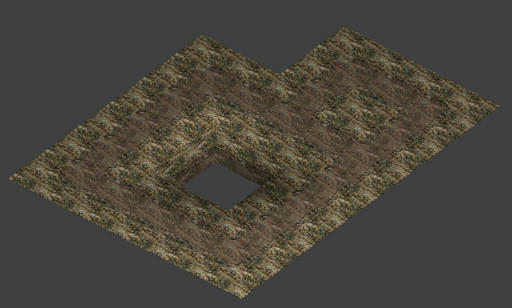 A different texture.
There is more scope for creating more shapes and room types in the dungeon builder itself. I can have small rooms and big rooms. Size 1 corridors as well as larger sizes. I can make mazes and other interesting constructions, I can make catacombs and caves.
The downside is that the textures can be quite repetitive. A lot of texture real estate is taken up with very similar visual structures.
Other points for and against:
Prefabs can have interesting features such as alcoves or shelves built in to the wall.
Tiles can make interesting floor structures such as irregular pits and grilles.
Prefabs can have more interesting entrance and exit stairs.
Prefabs can mix and match tilesets withing the same map.
Tiles can mix and match tilesets easily withing the same room.
Tile based dungeons are less predictable.
Tile based dungeons can have dynamic features such as working pits or tunnel-able walls.
I know how to handle the tilebased graphics because I've already used them in another project.
Prefabs are already in the game and working well.
With a tile based game I can build the navigation array before placing any objects in the scene.
Prefabs require support pillars at the corner of each room.
Tile based graphics don't, they can have really large rooms without any visible support.
Theoretically I have code for different sized prefabs. Either 10x10 rooms as I have now or any other size, such as 6x6 or 20x20 or 100x100 which would allow large set pieces such as caverns or houses or castles or even boats or airships…
So what do you think?
Should I continue with the more modern prefab idea, or go back to basics with a traditional tile based dungeon?