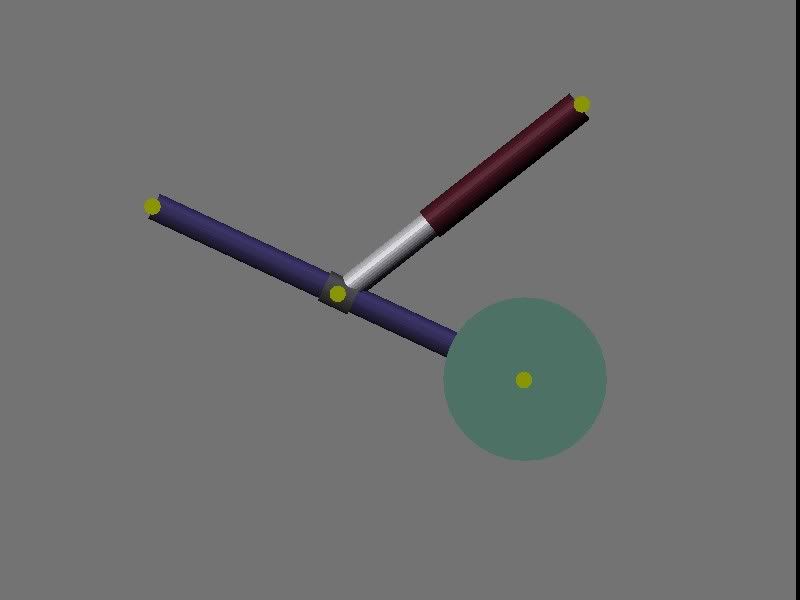 This is a very simple setup for undercarriage. The green is the wheel. The dark bit is a slider along the blue rod. The grey cylinder extends inside the red cylinder - like hydraulics or a telescope. The yellow bits are hinges - the wheel spins on the end of the blue rod, the blue rod rotates at the top, the red cylinder rotates at the top, and the grey rod can rotate around the dark slider.
I'm trying to make it so that the system will compress properly to a vertical input - I was thinking a free-floating bone with a floor constraint. The bone would also stick to the floor so I can use IPO drivers to rotate the wheels.
I have mainly two problems:
How can I rotate the blue rod so that its end matches the vertical movement of the floored-bone?
Also, how can I make sure that the slider stays on the blue rod, but still attached to the grey rod which rotates about the red rod's hinge?
Thanks for any help.
---
Edit:
Actually, I realized that setup is mechanically unsound. The slider can move along the blue rod even if the hydraulics don't change size.
Here's a more clear setup. I also changed a couple colours to be more clear.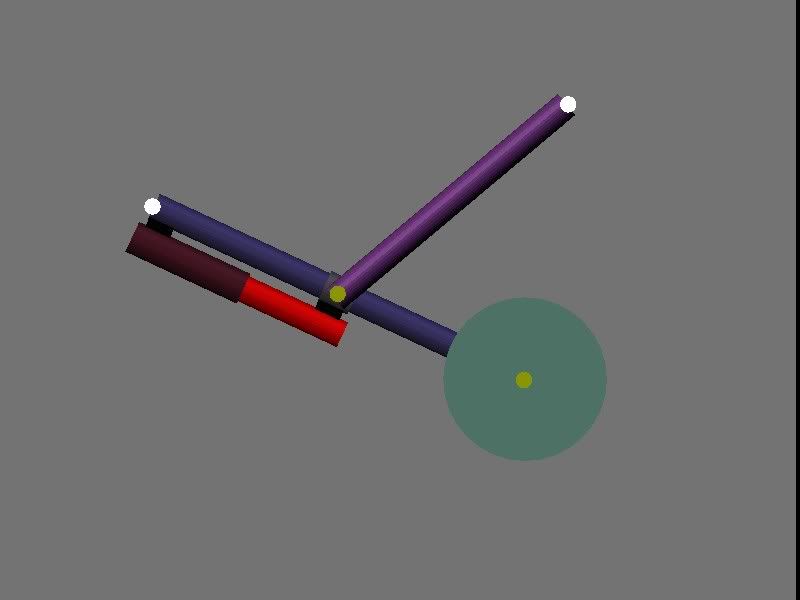 I moved the hydraulics under the blue rod. The dark red cylinder is fixed to the blue rod at the top by a black connector. The bright red rod is fixed to the dark slider also by a black connector.
The purple rod is where the hydraulic used to be. It is connected to the slider via a hinge.
I also changed the colours of two hinges to be white - these two hinges are fixed points (to the airframe or whatever.)
My questions are still the same: How do I make the blue rod rotate such that its tip has the same vertical position as a target? And how do I constrain the dark slider so that it is always along the blue rod?