Welcome to the voting for the Blender Week Day Challenge #0017, entries thread here.
Note: I've just written a script to help with thumbnailing and getting the voting threads ready so what follows is completely automated output from my 200+ lines of python script.
So please shout if it's messed up (I did check the post in preview mode before submitting it but you never know … :)).
Completed Entries
g60
(Sledge + Snowman + Sleigh)

Lumpycow
(Snowman + Sheep + Sledge)

Marslyr
(Sledge + Snowman + Sleigh)

neil__j
(Sledge + Snowman + Sheep)

Orinoco
(Reindeer + Snowman + Sledge)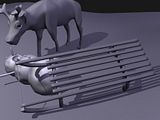 Tys
(Sleigh + Snowman + Sheep)

Incomplete Entries