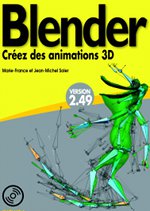 Just a word to say that a new book, Starter Kit Blender, has just been published by Pearson/Campus Press:
http://www.pearsoneducation.fr/espace/livre.asp?idEspace=73&idLivre=2999&dep=0
The news is a bit limited because only the french speaking readers are aimed.
Summary :
in a work turned exclusively towards the practice, we (Jean-Michel and Marie-France Soler) initiate the reader to Blender. From scratch, one will be brought gradually to design a cartoon film, each chapter approaching an essential stage (management of space, rendering, lighting, materials, animation, sequencing, finalization). Thus, one will familiarize gradually by using the software.
As an essential complement to the book, a DVD-ROM provides all the elements necessary to follow the demonstrations and will support in training thanks to Flash animations (104) illustrating the use of each tool.