Never mind, I figured it out.
I'm attempting to do a blender tutorial I found here: http://blendermesh.dasya.com/creating-a-fancy-watch-in-blender I was able to mirror on the x axis only after making sure my origin was in the middle or center. I can get the Y mirror modifier to work correctly only if I change the origin to the selected (where I deleted the vertices) of the cube. But then my x mirrror modifier object is gone. Can someone tell me how I can get the x and y mirror modifiers to work on the same object for this tutorial? I included three screenshots below to help explain what I mean.
Here the X mirror modifier is working, but the Y mirror is not working right: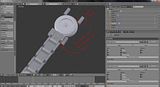 Here the Y mirror modifier is working, but the X mirror isn't.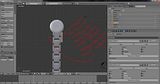 From the tutorial with subsurf. This is mirrored on the other side of the watch band (not shown in this image.)