Hi guys
After reading the latest issue of Blender Magazine, decided to take the holidays to return to Blender.
The theme of the next edition will be "Epic Fantasy", and I decided to take a pencil and draw a scene:

I still not sure if the lighting is night or day, but this angle will be there. My first steps in modeling and lighting were these: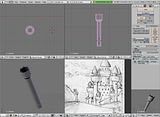 I hope to finish this project in a week. I have several unfinished projects (like all of you …), but this will be the third project I finalize.
Suggestions are very welcome