This week's theme: Japanese Garden
Pure Entries
byDesign [list:daee4494ce]
I spent way too much time on it this weekend… But alas, Shard had the same idea as I did. Maybe we looked at the same website for reference (exploreJapan.com)?
http://216.110.190.19/jgldesign.com/misc_jl/renderAC05.jpg
friedbrain
yeah! here's my entry…

lemmy
I was going to put some japanese proverb here, but I decided not to.


http://img8.photobucket.com/albums/v28/lemsoft3d/japanesegardensakura.jpg
Modron
here's mine


http://home.att.net/~moton-toybox/jgarden2.jpg
penitentman
Once again, not sure how much I'll be around this weekend. But I think I'm addicted to the weekend challenge now, so wanted to put something together.
http://penitentman.com/images/blender/zen-1024.jpg
PlantPerson
oh boy!!! I love Japanese gardens!!!

Prince
"Japanese Garden Temple"
"Reflection, Time, Solitude - Pleasures of Japanese Culture"
("Reflection" - the reflections of the water / "Time" - the shadows of the temple / "Solitude" - only one main object)

RipSting
Just look at that sand, carefully raked each morning by the groundskeeper. It's designed in such a way that it focuses its power on the pillar in the center. The large stones are negative forces that must be overcome in the gratuitous sand sculpting process.


http://oregonstate.edu/~dennisa/Blender/WC/109-1024.jpg
Robertt
Here is a slightly fantastical Japanese Garden, ever so faintly Monet inspired…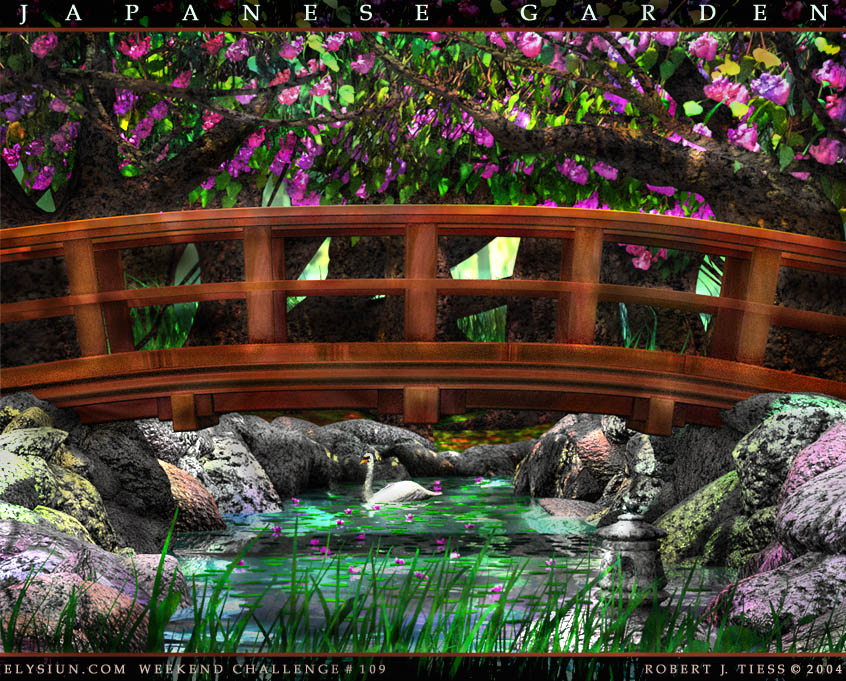 Shard
"It is good to have an end to journey toward, but it is the journey that matters in the end."
http://gallery.mudpuddle.co.nz/public/japgardnes
Usagi
Couldn't finish background in time. Here is what I have so far.


http://roy.gmxhome.de/files/StoneBasin.jpg
[/list:u:daee4494ce]