This week's theme: Character with expressions
Pure Entries
BgDM [list:6c10f57069]
Here it is:


http://gallery.mudpuddle.co.nz/albums/bgdm/wc_114.jpg
Caleb72
Characters - expressions - sigh
http://www.calebblake.com/blender/nervousned2.jpg
friedbrain
here's my entry,almost didn't finished visitors from out of town kept me away from blending the past few days.

IgorSandman
Mr Smiley invented a great device to smile in ANY situation. You never can smile when you hear "cheese!" ? Then this is for you. Pull it harder according to the boring level of your situation.
Note: Use in extremely boring circumstances is hazardous for health.


http://users.skynet.be/igorsandman/blender/smile.jpg
Jay Eff
He's blind, but his hearing gives him sight.
http://www.jfnetservices.com/114_blindsite.png
Kansas_15
Can't believe I decided to pull it off.
http://gallery.mudpuddle.co.nz/kansas15/0052_G
Knightmare
• BIG CRY BABY •
' I cweem , icweem! aaaaaaaaaahh! '

Kåre
"Looking for a good expression"

laniru
Oh cool. This one should be really interesting.


http://www.geocities.com/laniruart/picturepage.html
Lived
Could you think of anything worse that kissing a hairy tongue. All I have to say about this entry is… Blaaaaaarge

http://millwood.homemail.com.au/art/wc_monster.jpg
Marcoscosci
This is surely becoming my next avatar, but before it will be my avatar I will change some things, because at the end I had to do some things a bit too quick. I became 16 (I had visitors), so I didn't have the time to make it perfect.
http://www.freewebs.com/marcoscosci/Blender/WC_114_Character.jpg
Monkeyboi
Modeled and rendered in Blender 2.34.
http://www.shadeless.dk/shadeless/images/girl_expression_final.jpg
niknah
Puke! I'm glad the olympics is over…


http://users.bigpond.net.au/niknah/couch_large.jpg
Olimario
I made my gamecube alive and i think it likes me

http://hosting.cals.nl/wesleykok/blender/livinggamecube2.jpg
plexersheep
"Nessie liked all the attention he got from the tourists, but maybe he overplayed the mysterious card a bit too much…"


http://gfx.plexersoft.com/blender/nessie.jpg
Robertt
Expression of Serenity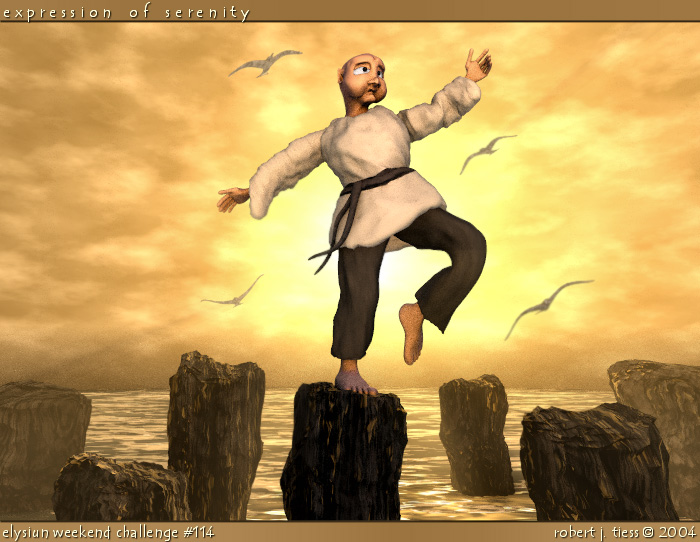 Weldertier
I'll name it "Water Intoxication" and it was made using only Blender.


http://www.rising-force.de/mitglieder/jhtl/bilder/wc-114-water-intoxication-final.jpg
[/list:u:6c10f57069]
Open Entries
Hoagies [list:6c10f57069]
i'm a totla newbbie when it comes to modeling faces, so i used the tutorial on this webpage. This is my first face hope you like it
http://gallery.mudpuddle.co.nz/hoagies/devil_003
TheChief
Here's my effort although I haven't read the rules but I assume it's an open entry as I post processed the colours in Irfanview.


[/list:u:6c10f57069]