Theme #144 for 25 march 2005 is: Antigravity
Entries closes at 2100 GMT -5 Monday, 28 march 2005.
Yeah a sci-fi theme

Possible placeholder.
I need to find some motivation :-?
-IS-
place floater
<edit>
these, er,… nyborgian freighters are being escorted to their destination by, uhrm,… drone thingies,…
pure blender, discombobulation by discombobulator plugin.


http://home.att.net/~yorik/airship3.jpg
First go at the challenge for me. Open entry. Main character was previously modelled. Everything else new.
Placeholder
First challenge ever!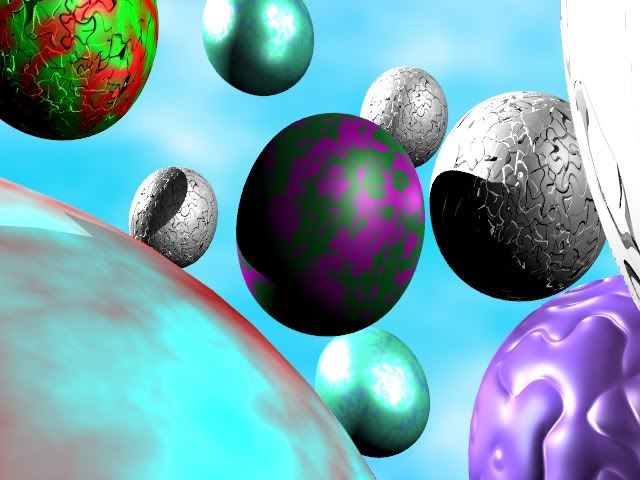 floating easter eggs.yay. :-?
I'll try my meager skills again
A little magnetic levitation going on here
http://www.gdawg.net/mypics/lev-globe2c.jpg
pure…
edit
updated pic …forgot to turn on Nor.
–edit–
okey… here it is:
Did a bit of post-production with The Gimp:
selective blurring (for propeller and smoke)
darkening the anchor
the Title
I'd still call it a 'Pure' entry, but just to be fair, the original render
Rest done in Blender.
Hope you like it.
Wah_Tak
y'all know me. I'll hold my placer, butter mah shizzle'n s***, prolly foget dat y'allz holdin a challenge'n s***, an waste dis pefektleh fahn gangsta s***.
Hmmm. Possible gravity-holder… er… -repeller.
-Laurifer
placeholder… also my first WC! should be interesting
EDIT:

I suppose it's pure, the only thing i did outside of Blender was resize it…
2nd edit: I'm a monkey!
placeholder - it's time I got back into the WC scene…
Count me in… Just give me the time to finish my render and it will be fine…

Long time since I entered a WC!
Edit:
Thread of my entry
Edit: final picture here:
This turned out better than I expected.
(but how do you get halo's to reflect?.. I gave up here)
AntiGravity Ship
to get halos to reflect, you have to use environment mapping instead of raytracing. also you can get blurred reflections that way.
Levitation
Pure entry, I used gimp just to scale the image from 1280x1024 to 640x512. Spent most of my weekend modelling the monk, didn't have any time left to work on textures, environment and lighting.
The Alchemist's Laboratory

Couldn't finish or fix problems. Oh well.
http://chickenwars.iwarp.com/photo4.html
Description: Modern man has often wondered at what mysterious knowledge the ancients must have posessed . . .
Pure Blender. Top image (V 1.0) is my entry.
Best wishes to all competitors!