Theme #145 for 1 april 2005 is: Cute little animals
Entries closes at 2100 GMT -5 Monday, 4 april 2005.
Toads?
I'll see if I can work something up…
Oh! Hopefully I'll have time for this challenge!
Cheers,
b01c
Ah, I think I've got an idea… Count me (hopefully) in.
Scientific name="Sparraghusfritobastardomorpehedthreeeyebolouski"
what do you guys think "Minchy" a good name for it ???..

Click to see it all
Pure blender, no photoshop …nothing…oh yeah photoshop i compressed it
so you don't have to wait like you're at the DMV…but that doesn't count now does it?..is it me or transparent objects over transparent objects don't render transparent ?
hope i'll have the time (althought i think i won't) i want to make that little foxcat thingy from Inuyasha!
Hold a spot for me, I should be able to enter (regatta on saturday, so…)
I haven't been around for a while as I've been working on my web design stuff, but thought this would be fun
cute discarded toy animal (supposed to be a cat):
post: cropped shadow slightly, added text
thumb:
Nice topic cipix!
Unfortunately, I'm too tight on my schedule so I couldn't enter this week, as most of the time… I'll try to throw in a quickie, though, if I can… Don't expect much from me but… who knows ?

Good luck to everyone and be inspired!
Text added in GIMP…everything else except textures is Blender
Anyways the image is pretty self explanatory, so here's my entry:

Maybe later on i'll fix the other penguins
Hello,
here is my pure blender entry. Can a bacteria be cute, clever, or something similar? I don't know, i just asked to a friend (for the english meaning of "cute") and my blender skills and goals and i'have seen that is just i can do, and all of i want for the moment. At least is certainly a little animal. I hope you like it.
Glaurung

Here is My entry… It is a Pure Blender render. [hehe that rhymes]
Description: This poor orphan kitten is looking for a home… Give him a home in the Hall of Fame and vote for him… Its okay if you dont want to… But can you really just look into his big round eyes and tell him he's not cute enought to have a home?
xm4r5h4llx
he looks cute
mine's rendering, it'll be a while (3-12hr's on my p3 450! eep! ) it's blender and rendered in yafray, so it's not "pure" It's a little alien child. I was going to make him crying, but it didn't come out right.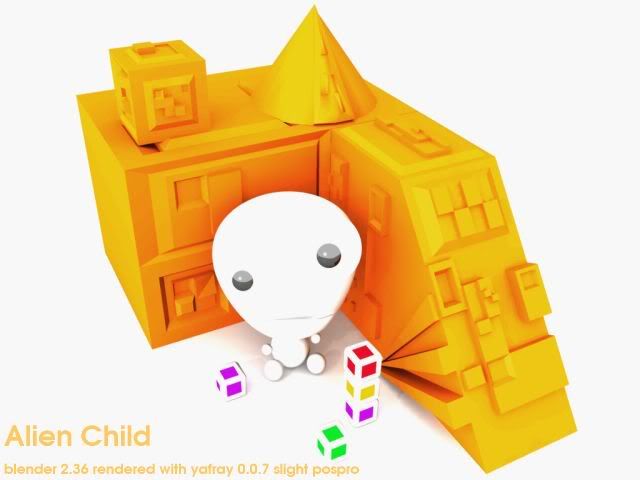 It didn't come out how I wanted, but it took too long to render.
Edit: My first try at hand-greebling, I don't think it's that bad!
late entry

So cute, so cuddly, so… well, at least on some far away planet…
My nonparticipating entry
Link might not work just yet, having ftp problems at the moment.
RobertT