Current Challenge Status

This week's theme: natural disasters [tornados, tidal waves, huricanes, lightnings]
How to vote: look at all of the entries, pick the one you think should win (based on whatever criteria you like - eg. theme interpretation/image quality/noob encouragement/etc…) and vote for it in the poll at the top of this page. If there are only the results at the top of this page, either you've already voted, or voting has finished. Also, if you're undecided between choosing a Pure entry and an Open one, you're encouraged to pick the Pure entry - other than that, just ignore the Open/Pure classifications.
Easy, huh?
Pure Entries
X-WARRIOR[list:19f6c50795]I dont think I will get votes on this one but it was really fun to make!

It take me about 45 min (or less… :-? ) to make it…
it is PURE
http://mysite.iptic.com/xwarrior/disaster.jpg
ectizenNatural disaster, taken from the news recently…
Pure

http://www.ectopia.net/safi/flood8.jpg
@ceI'm done!! took me 41 minutes to render
sheeeeeesh!
Not all textures are mine…
Pure entry

http://www.dm7.net/gallery2/gallery/album04/WCBlownAway
IngieBeeOK, here is something. I never have time to put into it, but here it is anyway:

http://www.ingiebee.com/downloads/weather.jpg
DreamMasterPURE- The earth is facing it's rare natural disaster. All people can do is to hope…

http://www.dm7.net/gallery2/gallery/blender/natural3
nerddogsPURE Goin' for that "FAR SIDE" feel

http://www.geocities.com/shop_of_thunder/cowENTRY.JPG (copy and paste)
WeirdHatI call this picture 'accidental seismograph'.
PURE! WHOO!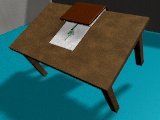 http://www.weirdhat.com/blender/earthquake.jpg
vosaHello,
this is my image for "Natural diseases" weekend challange.
It's PURE - all done by myself this monday.

http://vosa.wz.cz/Tornado.jpg (copy and paste)
[/list:u:19f6c50795]
Open Entries
Nayman[list:19f6c50795]JSUT FINISHED MY ENTRY
really didnt take long… but hey…
I guess its open…
http://cgi.third-era.com/~Nayman/1.jpg
[/list:u:19f6c50795]