Theme #170 for 4 November 2005 is: CRASH! BOOM! BANG!!
Entries closes at 2100 GMT -5 Monday, 7 November 2005.
Deffinate placeholder…

yay this is my first!
<EDIT:>
Ok, after two days of hard blending, here's what I've come up with…
Pure entry:
"More of a crash than a bang I suppose…"


(link to full size version (140k))…
www.strikermuncher.foskie.com/glass2.jpg
I have a stupid idea… Hope I have time…
Same thing here… possible placeholder…
*** Edit ***
Really don't have much spare time this weekend so here it is.
Pure Entry
ToyFactory - Each of out toys are put through a series of test to ensure you have a good time.
ToyFactory - Good toys, good time.
Attachments
Title: City Blocks
Pure Entry
Modeling/Setup: Blender
Rendering: Blender Internal
Minimal Postpro: GIMP
Render Time: 9min 10sec (for motion blur)
Count me in… Entry coming up soon.
Here'tis:
"Slippery when wet"
Absolutely 100% pure
http://members.westnet.com.au/andydolphin/blender/BangCrash.jpg
possible place holder… very possible!
Edit: Well, i'm going to have a hard time competing with these posts, but i'll give it a shot.
100% Pure.
(I imagine it would say something along the lines of "Meep!")
http://img169.imageshack.us/full.php?image=dynamite1zq.jpg
Attachments
Hrm, I think I'll submit something, but it's not too original, so I dunno if I'll be participating… (if I am, this'll be the placeholder
( edit: ) This is Vogon Prostetnic Jeltz speaking… As you may well be aware, your planet is scheduled for demolition…
(I'm not participating)
Attachments
Well, here's my first entry. Crash boom bang made me think of a song, and I thought this was a clever context. Bonus points are awarded if you can figure out what song it is talking about.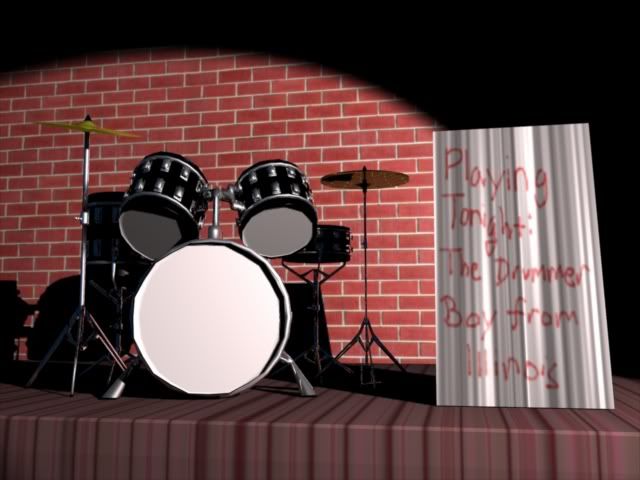 Oil Crash Boom Bang!
Grenade is pure blender+yafray. Background image and motion blur added pp.
http://www.eaemedia.com/blender/grenadeWC.jpg
and a thumb:

Hey, emfrobia, why don't you call it "Run Forest, Run!"?
Hey, emfrobia, why don't you call it "Run Forest, Run!"?
Lol! maybe if i ever add on to this project i could add in some trees on the furry guy. Thanks for the idea!