Theme #398 for 13 August 2010 is: Black & White
Entry closes at 2100 GMT -5 Monday, 16 August 2010.
So anything as long as it is black and white? Is this right?
Anything that could relate to black and white.
Like a frame from a black & white film…
Or a black bear and a polar bear dancing with each other…
Or render a scene with all colours except black and white just to be different and wierd…
Or… (insert your idea here)
Or a black bear and a polar bear dancing with each other…
Or… a panda
Title Black and White reminded me of this image. So I decided to play around to see if I could make it entirely with Blender. I rarely use Orthographic Projection so I was not sure. But, it came out ok. Adding some AO to geometry made it quite graphic.
Pure, 100% Blender and about 30 min to figure it out.
Attachments
wow thats insane, how did you get that? wireframe please?
It's done exactly like those models that are made for real trick photography; with some cut members. When you look at it at precise angle, it fools the eye! I locked camera object and cube to make those cuts.
Attachments
Wow. Very good entries this week!
"Metal Massage"
Pure in Blender 2.49b.
Link to the image: http://www.pharcom.ic.cz/images/wc/MetalMassage.jpg.
Link to thumbnail: http://www.pharcom.ic.cz/images/wc/MetalMassage0.jpg.
Wow guys! Awesome entries!! It's gonna be hard to vote :spin:
I completely agree:
Wonderful work, everyone!
Here is my entry:
Run in to Your Tea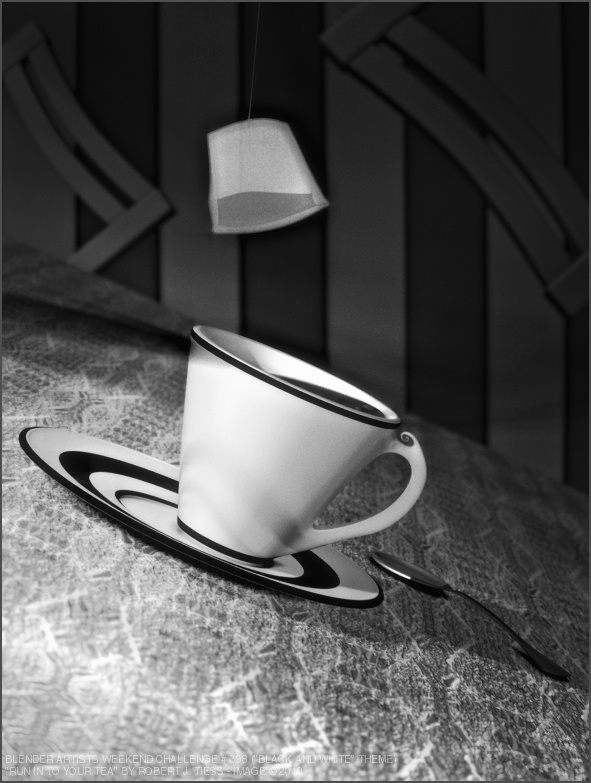 Pure Blender 2.49.
RobertT
…and to top it off, Mr. Tiess strikes again with another awesome render! Love the texturing on the table cloth and the stylized tea cup.
Thanks so much, Robo3Dguy! It was a quick and fun little project.
RobertT
Wow, nice works people. gregzaal, I really love the funny looks of your butterfly with those huge eyes

Mr. Tiess, though simple project, you made it yet another piece of artwork to have a pleasure looking at.
GJ all!