Now my first questions have been answered (thanks RobertT) I can ask some more! I'm a little confused on the procedure to enter in the contest. It seems to say on the "Welcome to the weekend challenge" thread that you must upload your picture to an external site and post a link. But it doesn't seem to be the way everybodys doing it. Also, what size is good for rendering to enter in the contest, and what file type?
I just went through learning this myself (and thanks to Kidus for getting me on track). When you render your image you can do it in PNG file type, which I believe is default, because it is lossless. Then you can either put it on a web hosting site and provide a link, or you can take the PNG file and use editing software and convert it to a JPEG file, make sure it is less than 200 Megabyte file size and then you can upload it here on the Blender Artists site.
The advantage of posting here is the smaller file will load faster (thanks again Kidus) and it can be used as a thumbnail if you make your own topic about a picture. The disadvantage is it will not be quite the same quality as the PNG file but you can provide a link to that picture if you want. Evivi does that each week with their submission.
If you just want to post a link then you need to make 10 posts before the website allows users to make links.
The directions on how to upload an image to the Blender Artists website is kind of obscured in the FAQ section, but basically reply to a thread using the post reply function (not the quick reply), at the bottom click on manage attachments, and then look in the section to upload file and click browse to find the file. Took me a bit to figure it out the first time I tried.
Hope that helps and if i messed anything up I'm sure someone will be along shortly to correct it.
Great, thanks Ryeath. I'll hopefully be putting up an entry sometime this week.
my first contest… What are the rules exactly. I usesd Gimp and blender. Gimp only for making the alpha of the soldiers silouette. And Textures for moon, starfield and silouette are taken from free pictures in internet. Compositing and rendering layers is all done in blender.
cheers
My first thought was the Fortress of Solitude from Superman. Some bits I'm not too happy with, but it ended up being a 3 hour render in Cycles.
That is much clearer. Could we make it the sticky thread at the top so everyone can find it?
Nice picture zeealpal. I think you have won every time you have entered (since I have been doing these) and will probably be a contender again.
In my younger days when I felt the need for some solitude I would hit my favorite fishing spot, so my entry this week reflects that. This is the first time I have made clothes for a sculpt. The couple sculpts I did before I would sculpt the clothes onto the main object and fake it with texture. I also made my fisherman in the t-pose and rigged it up to pose it how I wanted it to be.
Pure entry, modeled from scratch, shirt texture I made in paint.net the rest are cycles procedural textures.
F.I.P. (Fish In Peace)
(edit: not sure what I did wrong for it to show up as attached thumbnail instead of just a picture)
Attachments
One of the few places a parent can find any peace and quiet.
This is a pure entry rendered with Freestyle and then with a little extra color and text added in Gimp.
And who wouldn't want to have a bit of wifi added to their outhouse?
Here is a link to the blend file if anyone would like to check it out:
Hope everyone enjoys it!
Alright now i have never made a "non pure" entry before… so i'm not sure how to go about doing that. What's not Pure about it is the fists on the table are a model i had created before the challenge was issued.
And i just feel bad that this idea isn't exactly original…
Many weeks i fail to think of an idea that doesn't include stuff i've previously made, but i wanted to at least try this week even if it isn't a pure entry because i miss the learning process of the challenges.
So here is the Non-Pure Entry "The Tune of the Reindeer"

Thanks
Haha no, not every time. And best to count the competitions I didn't enter as a faulire, as I have a (sadly) rather limited scope to my creativity, so the competitions I don't enter are because I could not finish anything or come up with a decent idea at all.
I'm all materials, lighting and rendering, but less so on creativity, composition and any organic modelling.
I love seeing everyones entries in the weekly competitions, as it gives a wide range of examples of different ideas and interpretations of ideas.
Pure entry
rendered with cycle , I think the doll texture need some fixing but really i don't have much time today so I keep it
…
My entry: solitary tree.
Not sure if can be called pure: i used Gimp for deleting some floating leaves and overlay the "god rays" made with BI, plus a lot of background is simple photo.
Well, i have to admit, this time my creativity is not that high but i used this weekend theme to create a short kind of timelapse, i never tried that with Blender, so don't have high expectations
:
I shooted the clouds in manual mode,with costant shutter,aperture,iso,wb…you can notice the clouds are sometimes dark and other lighten, i guess was much better with auto shutter speed. Then there are a lot of other things that could be improved/fixed, i also did a mess with sapling animation and you can notice some leaves floating
@mik1190 I love that animation!!
Looks great!
New question now, are entries limited to stills only, or can a short animation be considered as well?
Wish You Were Here…
[video]http://www.rawstar7.co.uk/tmp/hms_swordfish_01.avi[/video]
Thanks! The rules are speaking only about image(s), so i think only still images are valid. I posted the video here just to share the result and the flaws you may avoid in case you need to do something similar. Btw, i noticed also rawstar made an animation
Gonna try to get it a little more crisp, but just in case I run out of time:
Sorry, the PNG file refuses to upload so had to do it through Photobucket.
UPDATE:
I havn't posted anything in a while busy with school and stuff. Weekend animations seems like a fun idea though. Does anyone know if it's possible to change your name on this website.
Here is my non-competing entry:
Not an Island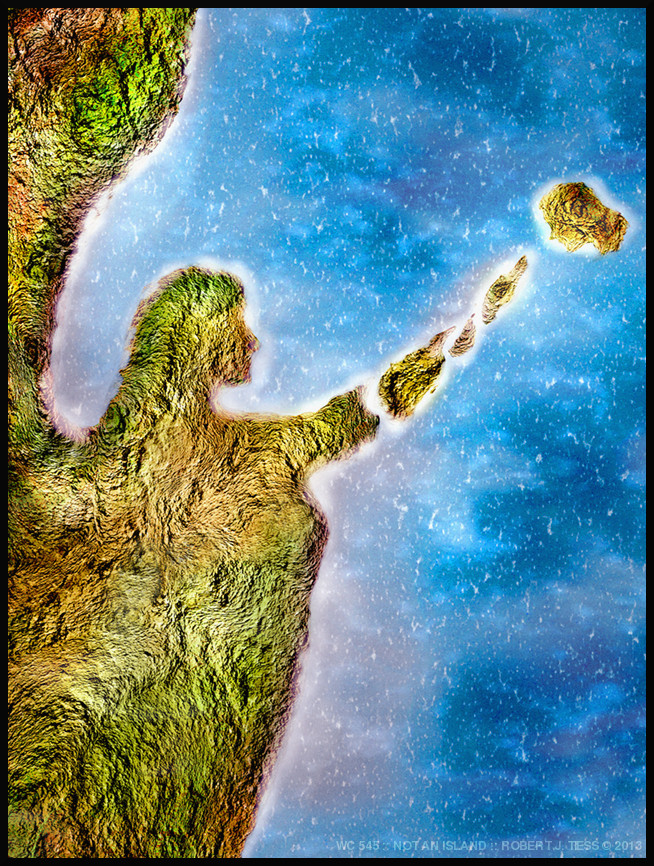 I rarely like to say anything about my images because I want everyone to have the opportunity to view and interpret each piece independently, but I did feel a little bit of an explanation was in order for this entry.
This image is my visual interpretation of John Donne's famous words, "No Man is an Island":
"No Man is an Island, entire of it self; every man is a piece of the Continent, a part of the main…"
…which, for this challenge, I felt could connect with the theme of Solitude in a way to say we are never truly alone or apart, but rather that we are all really part of a greater wholeness, connected…
RobertT