Theme #548 for December 13 2013 is: Soviet Technology
Entry closes at 2100 GMT -5 or 8pm CST, Monday December 16 2013.
Here is my non-competing entry:
The Space Age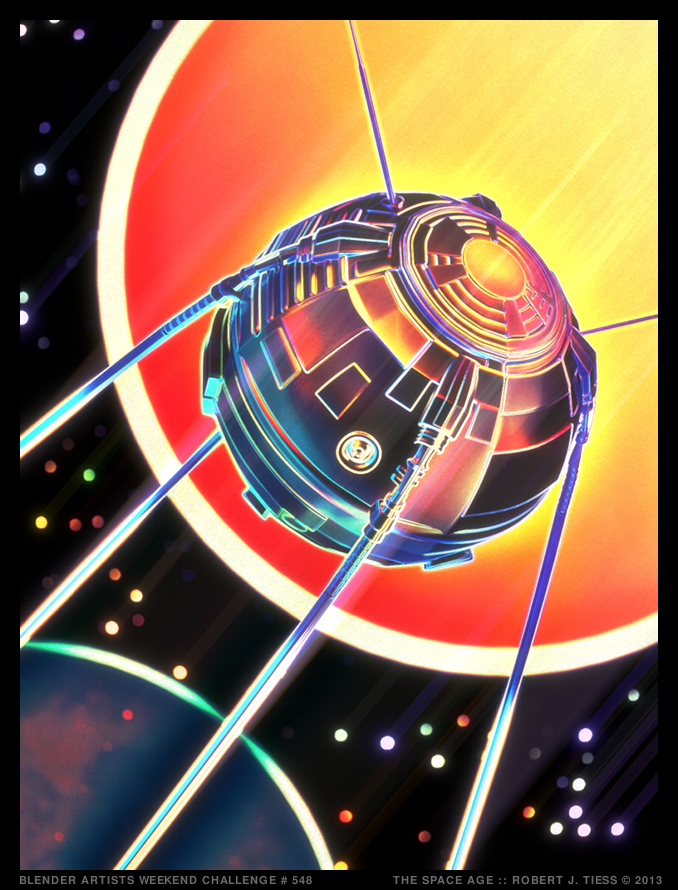 In keeping with the topic, this stylized image was inspired by the "Sputnik" series of satellites.
RobertT
The Ilizarov Apparatus was invented by Soviet physician Gavriil Abramovich Ilizarov in the 1950's. It is used to repair severely broken bones and correct bone malformations. (credit to Wikipedia).
As with Robert T. when I saw Soviet Technology the first thing that popped into my head was Sputnik, so I wanted to go another route. Did some researching and decided on the Ilizaroth Apparatus, as I felt it would be a nice modeling challenge as well as, hopefully, a unique entry.
At well over a million tri's this is my most ambitious project to date. Modeled from scratch in Blender, rendered in cycles, 1000 samples. I couldn't decide which render to use so I made a compilation in paint.net. I think that is still a pure entry since I didn't alter the renders any.
Hope everyone finds it interesting.
And nice work as usual Robert T.
Attachments
I'm guessing we'll get a few more sputniks :).
Sputnik over Earth
Great work RobertT by the way, looks lovely.
I had the same idea but after i went for a mi-24; later will post the result if will be enough fine.
Pure entry. Rendered in Cycles.
It's the Soyuz Spacecraft. It's not very accurate but here it is
Good Luck everyone!
AK 47

Hey guys
Here is my pure entry for this weeks challenge. Actually I didn't like the idea to enter with a gun but then I sow everybody is doing something space related so I want to do something different so it became the gun. I just want to clarify i do not support any gunusage nor violence with this image and that's why I went with a more "abstract" approach.
Hope you like it
Attachments
Ryeath: Astounding modeling work!
RobertT: Very cartoony! Amazing! A lot of movement as well!
Both of you: Congratulations!
Why so… serious?
Perhaps the kind of used-to-be jokes that I had in mind are too geographically limited?
My non-competing image:

My first thougth was also Sputnik. I am glad I decided to go a different route seeing all of the excellent Sputnik entries so far.
After some research I discovered that Russian Oleg Losev reported creation of the first LED in 1927.
So I decided to model an LED light. The modeling was not that difficult, but getting the materials to do what I wanted was a struggle that I feel I didn't quite meet. However, I am still pleased with the final result.
This is a pure entry and other than the text at the bottom of the image, it is a straight cycles render.
I was hoping someone was going to do tetris.
I am trying to find a cool way to do Tetris! :eyebrowlift2:
Here my entry: Mi-24
I think i spent more time on the background than on the helicopter as i changed idea twice

Here the video:
http://www.youtube.com/watch?v=V6L-K1qFERo
This is the first project where i run out of all the 8 Gb of ram, that happened when i tried to join all the buildings and trees that were around 7 or 8 different models duplicated with alt+d .
A mistake i re did (and is better if you can avoid): for blurring the city in the still image instead of moving camera and helicopter i moved the whole city (with my setup was easier). Later on i decided to create also the animation using the same models with location keyfamed. After more that a quarter of hour adjusting the houses location, rotation, etc, i pressed the play button and everything "overlapped".
So don't forget to clear the keyframes that are not needed before going forward in your projects
Waiting with great interest to vote on the final selection … I must say that there are some extremely artistic interpretations here, of what easily could have been a fairly "dry" theme. :yes:
Didn't get time for an entry this week. Nice entry's by everybody though.
Thank you for the kind words. I think a quick look at the geometry might change your mind. Way to many control loops adding to the poly count. I should probably learn the edge split modifier or the bevel modifier. I haven't had much success using those so I just add control loops like crazy. Much of it is repetitive, using the same object many times, like the bolts and nuts and wires. But I am glad you liked it enough to mention. It means a lot to a noob like myself.
Robert T always does some amazing piece every week and SonnySee always seems to find a way to make a major impact with a small footprint. Very nice as usual, and mik1190's helicopter is a sure front runner this week.
Very nice work by everyone and good luck to all.