I am making a character wearing baggy pants, similar to army BDUs. Here is a picture: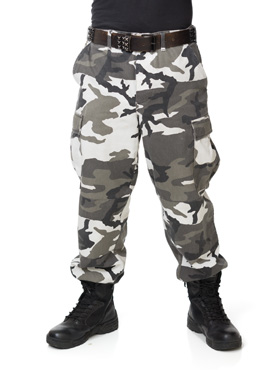 I have the pants draping nicely over the body, even when I change the pose. But what I want to get now is proper wrinkles. In the current state, the cloth is fairly shapeless. But real cloth will pull and bunch up, and be stiff enough to maintain some shape of it's own.
This image shows the sort of thing I'm going for: http://www.toppots.net/thumb2.php?img=download/BritArm1940BatDrsTrs.jpg
You can see where the cloth is hung on the body beneath, causing wrinkles to spread most of the way down the leg. These are caused by the fabric being taut in some places, but loose in others. But in the Blender simulation, it's technically loose everywhere. Could I get these sorts of wrinkles with pinning? Or weighting different amounts of pinning across the mesh?
What sort of settings or pinning do I need to get the cloth to properly behave like actual pants, rather than like really flexible rubber?