Hi all,
i merged and converted two old scripts, to let you make corrective shape keys. The first script was created by Tal Trachtman (http://www.apexbow.com/randd.html) and the second one i believe was done by brecht. That one works with any combination of modifiers, but it is very slow (like 3 minutes for a char with 4000 points). The other one works only with objects that have no more than one amarture.
Here is the script:
http://www.ivogrigull.com/blender25/add_corrective_shape.py
I made a quick youtube demo (sorry for the bad quality) Link
And an example blend: Download (install the script and hit alt+p to see if it works correctly)
The script is now in the blender wiki repository: Link
How to use: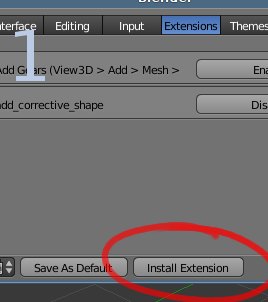 In the user preferences click "Install Extension" and select the downloaded file. It will be copied to you scripts folder. You can also simply create the "extensions" folder in your scripts directory and copy your file to it if you want.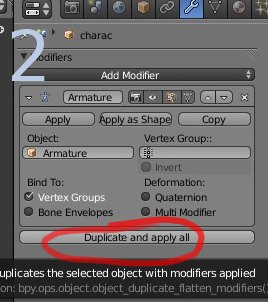 2. Select a posed character object and click on "Duplicate and apply all" in the modifiers panel. This will create a copy of the mesh that you can edit/sculpt.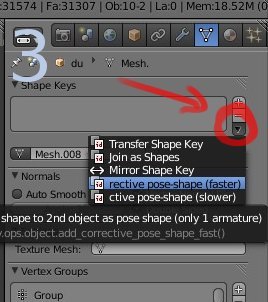 3. Select your sculpted copy and then the character object. Click on the little black arrow in the shape keys panel and choose one of the options shown in the image above. If you are using no more than one armature choose the faster method.
If all went right, your character (or whatever) should have the new shape key for your pose.
Edit:
Just updated the script again.
changes:
Fixed a bug that eats lots of your memory
Now the active shape key will be replaced/updated. If you want to create a new one, select the first key ("Basis")