kit is now finished…
here is the link to the new thread in finished projjecttsss…
http://blenderartists.org/forum/showthread.php?goto=newpost&t=109427
Attachments
Looks good… But it lacks shadows… Try adding some shadowcasting on the floor.
But other than that. Looks good so far.
I recommend changing the snare stand arm. It looks way too thin to take the abuse and stay in position. Here's one from Gibraltar.
Similarly, the support for the big cymbal above the high hat looks rather thin. Maybe switch it with the little splash. Also, I think you're missing all the nuts for the cymbals, including the high hat. Don't forget to model a double-bass pedal when you do the drums.
Is this going to be your kit or one you'd like to have?
Keep posting the updates. I'd love to see the rest.
hey thanks for suggestions…
@ERADICOR
how lol… im still a noob ay… but getting there…
@deb
hye thanks few pretty cool sugggestions ay…
all the boom stands for the cymbals are all the same thickness dunno might just be the angle…
annd as for the snare. the stand isn't even connected to the snare yet lol…
but i really like that gibraltar one ay…
ill certainly look into it…
and this is my kit. at home. just saw it and said thats a challenge :)//
shanon how bout textures any critz on textures.?
You inspire me. My drums are sitting right behind me, just waiting to be modeled. That's my next project after I finish my congas here.
The guy who responded to my image in the other thread gave me some links for textures which I find quite useful and will definitely use. Beyond that my advice on textures is quite limited.
One thing I was thinking of just to be different. You could try images of some really old vintage cymbals (check ebay) instead of those shiny new Sabians. Who wouldn't love a set of vintage K's on their awesome rack? Or some of the Paiste Colorsound cymbals?
I found your other thread for this kit and I see now that the joints on the rack are very detailed. Unfortunately, the all black material applied to them hides all your detail. The chrome is nice. If you want to go further with that, there is a guide for making some great metal textures in the Blender Art Magazine (issue #8 or #12, maybe both.) Issues are found here.
Of course you still need shadows, but you know that already.
Speaking of which, you could take the mortar seams in the brick texture and use it to displace the normals on the walls. That would look cool. Personally, the floor texture seems kind of busy. I would tone it down somehow, but that's me. And then some shadows on the floor.
hey just posting a texture problem…
the drum skin on the toms…
what i have done for the texture is used ray trans and ray mirror a lil… and a cloud texture for variety… then another cloud with nosie level turned down to mask out the hit marks…
is there any way to space out the distance between the "hit marks"…
any help or critz are very welcome.
shannon
edit: Also… this image took about 3 years to render using ao… i have 5 computers in my house. is there anyway i could use a free rendering program that would let me use some of those computers cpu.???
thanks for all help heres the tom… not quite right.?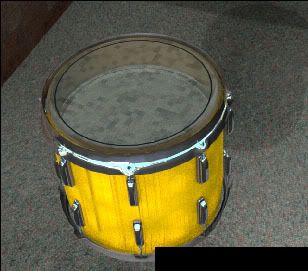 hey new updates…
new: changed rendering using AO. textures look better.
added shadows.
@deb.
so you play drums… sik… whats your kit.?
yeah i dunno what you mean about the normals… and toning it down abit on the ground,
yeah this has taken me a while so far. and yes i know it's annoying i have put a fair bit of work into this and then it's hardly cisible. i think im going to do a fly by with the camera later once finished…
thanks again man for your support… any other suggestions are very welcome…
shannon
This looks good, texturing looks fine imo but you need better lighting, the shadows need to be more defined; right now everything looks like they're floating…
The more accurate and detailed the model, the better the end result. It seems(since I am a drummer) that some of the parts lack in detail. Otherwise it's an okay start.
Spen13.
it is pretty detailed actually. i have even gone down to make the thread in the screws. i have modele\d everything the same way as my drum kit.
this is my drum kit and how it is modeled.
and that first picture was with no shadows no AO and crappy textures… will post more soon…
shannon
hey new update… this is rendered version of what ive done so far…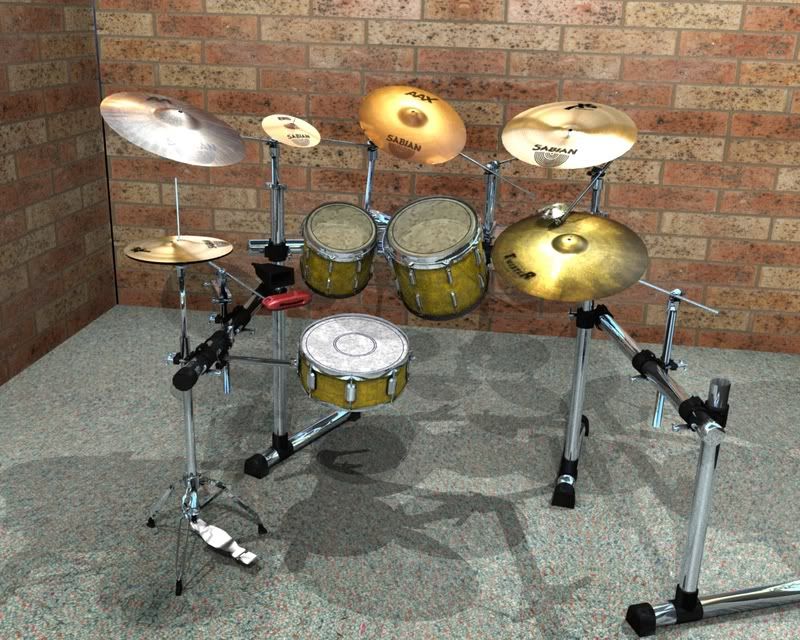 texture on drums are a bit weird. but fixing them and shadows… also… see the lugs on the snare.!!!
dont have that much time to work on it. so progress is slow…
also… question. dunno if it can be done… ill post a pic in a sec…
but theese selected verts… i have all the lugs around the snare selected but i wanna now if you can make the selected vertz like change the width of them all at the same time… like
once they are all selected… scale>x>
and each object will scale it self in it's on x direction>?
is this possible. ill post a pic to make it more clear…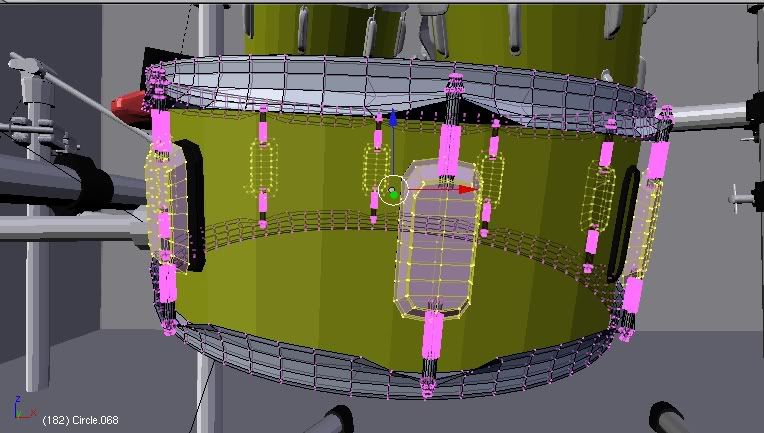 No, cause you are scaling along the global x direction. You can select one lug, change the width and memorize the number that shows up on your display, and do the same for all the lugs. Be sure to stay at the same zoom level after you do the first one, or you may not be able to arrive at the same value.
sup shannonhochkins
There is an easir way to do this. Seeing as though all the lugs are the same you should use dupliverts. Its a method to have one 'master' object and repeat it at all the verticies of it's child object. See wiki link on how to do it. If you do this then you only have to change one object and the other's will automatically be updated.
a.vector
ps if you want to dupli both the top and bottom lugs then use dupliframes, then the childs orentation can be easily controlled.
a.vector,
Your method is definitely easier during the model process. But he already has the things modeled, now all he needs to do is expand them. Selecting each one can't take more than a few seconds, as well as scaling them. Deleting all but one, setting up an object to host the dupliverts and actually putting it all together would take a lot longer.
The slick way to do this is with linked duplicates.
The only drawback is that the lugs will need to be separate objects from the rest of the drum- though this isn't really a problem since the resultant lug objects can be parented to the drum object so they move together.
To create linked duplicates, delete all but one lug. This will be your master lug. Separate it from the drum object by selecting all the verts in the lug and hitting ctrl-p to make it a new object. Now put your 3d cursor at the center of the drum, select the lug and type alt-d. This will make a linked copy of the lug. Set your pivot mode to the cursor (which is at the center of the drum) and rotate your linked duplicate lug to it's appropriate location. Repeat the step, being sure to duplicate with alt-d for all the lugs.
Now select the master lug and tab into edit mode. Make your geometry changes and WOW-- look all the linked duplicates have the same changes applied!
The advantage over dupliverts is that the location of the lugs is not based on the geometry of the drum object.
This is also better then remembering the change you made and making it on others, because you only ever have to do it once. You can now change your master lug whenever however you want and all the linked duplicates with have the same change.
Fantastic work - I'm thinking your your claming to be a newb for added boasting - but never mind. A few points:
If you try to drum on concrete your drum-kit would slide around all over the place - though I surpose that frame could be attatched to the ground.
I've never seen a snare stand like that. Sure they may exist, though.
hey everyone…
with the lugs… they are using dupliframes. and already made thje duplis real… so yeahh…
but it's ok… ill just do them all individually…
thanks for all help… and aswering my questions…
anndd ps: i really am a newbie… i have been using blender for about 2 months now…
thanks again everyong… updates soon.
Very good! You're a newbie, but certainly not a Noobie McNoob-Noob!
latest update:::
added another tom (floor)…
finshed the snare stand… fixed shadows and tom textures… and lil bit of lighting. still needs work…
thanks lord of the rings junkie… lol.
still critz and comments a very welcome…
thanks again…

another image will come soon. when rendering finises lol…
here it is…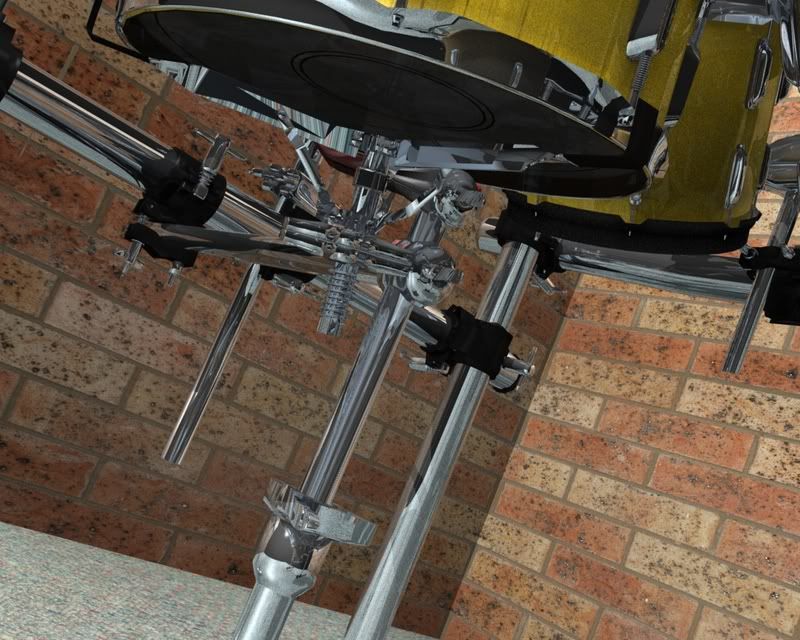 just thought id show you the snare stand so you can understand more…
bit shiny thought cause of AO and camera being so close i think lol…
shannon
Very good. Brillient idea. Nice shading, looks real.