Hello everybody,
I want to ask is there a way to extrude all faces evenly, on "their own" axis?
I have started using Blender one year ago, and so far, I've found a solution for everything except this.
I have drew a sketch of what I mean, it's not perfect, but you get the idea.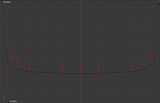 Any help will be appreciated.
Best regards,
Se7en