Ok so why not use B bones?,
Simple, because I need to export a model and the animation that will go with it as an fbx, and the segmentation systems that b bones have do not get exported into the .fbx so the nice and simple twist that you can get out of the B bones is lost.
Mind me I can still use b bones and export the rigg while they are activated,
the segmented systems is the only thing that will not get translated into the .fbx format the rest works like a clock.
I went ahead and got dirty trying to do the forearm twist using multiple bones on the forearm, the wrist rotation needs to control the forearm twist, so the 3 segmented bones need to be constrained to the wrist controller or the wrist base bone, i can do that by using a constrain rotation or by making an action and then using an action constraint on the forearm bone segment and the use the wrist controller to drive the segments.
So to summarize
We have a wrist controller that is controlling the IK for the arm.
forearm segments with decreasing influences over the weight of the forearm geometry
constraint segment to wrist controller bone, tell them to be constrained only
to rotate under the Y axis.
But for some reason no matter what setup i try the segments end up doing rotations
when they are not asked to do them
Some pictures to go with my ramblings, i know explaining this kind of things is very hard unless some pictures go with the abstract connect this to that.
I un parented the segment on the forearm so its easier to view the rotation.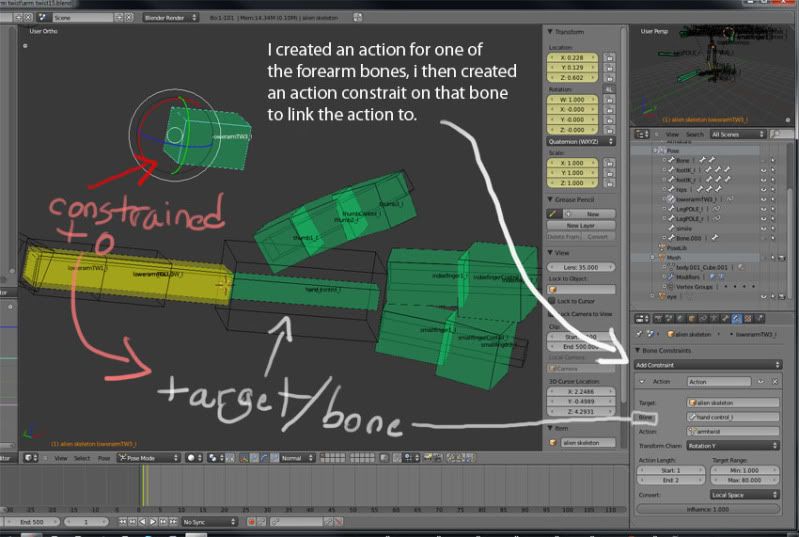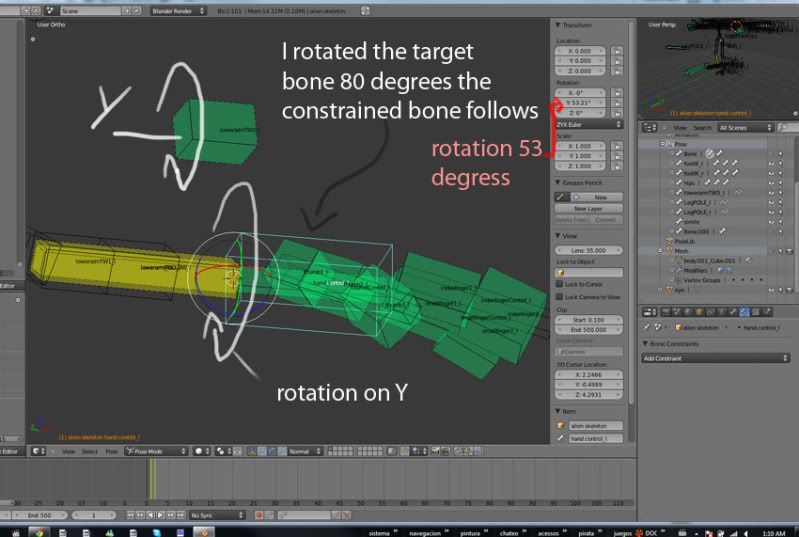 Now if some knows of a tutorial to make the forearm twist without the use of B/bones
I would be very happy to know where i can watch it, if some one knows a way to
get this to work I would be most grateful for the information, please someone help
me out
Heres the blend file, if possible not just write a description of what to do but actually
use this blend file and make it work there, I'm a visual kind of guy so a long abstract
explanation will be not as useful, if you got a solution in written form I'm happy to
read it, but i rather have an example to go with it, if possible at all.
arm twist15.blend (1.36 MB)
I made this rigg following the online tutorial from CG cookie to make an alien, this is
not the model I'm gonna use in the end, its gonna be an old man in a robe but
thats irrelevant I still gonna need a biped rigg.
I haven't seen a proper tutorial to get this done with no B-bones involved so I'm
really curious if this is possible at all, and if theres a tut I'm all for learning so pass
me the link and ill bother you no more.
Please help, I'm completely stuck.