This is a booklet (135 pages) for those, who are familiar with the basic Python programming concepts, and have some knowledge in Blender (but they may know nothing about Python in Blender):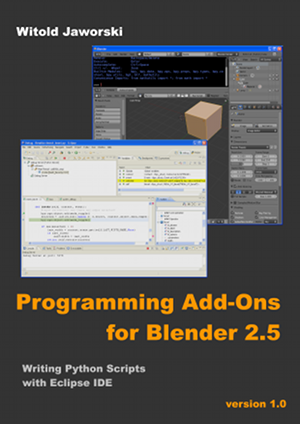 (Click this picture, to go to the page with this e-book - http://airplanes3d.net/pydev-000_e.xml)
I am presenting here a complete IDE for writing Blender add-ons. It is based solely on the Open Source, multi-platform software: Eclipse and its PyDev plugin. It offers an user-friendly, graphical remote debugger, intelligent Blender Python API code autocompletion, and other features, which make the writing of a longer script easier.
The best way to present such a tool is to show it in the real work. Hence you will find here a step-by-step description of creating a Blender add-on.
It is simple, but non-trivial plugin, implementing the "destructive" Bevel command. I am showing here not the ready solution, but the whole process - from the problem to solve (the lack of the Bevel command in Blender 2.5) to the ultimate Blender plugin. In this book you will learn how to deal with the Big Unknown - the Blender Python API, with its thousand classes and properties, and its quirks. I am showing here how to find the solution, not wasting the time for the other aspects of its endless possibilites :).
If you want contribute to this work, just let me know about any grammar/style or any other error, which you can find in this book. I did my best to write this publication, but I still want to improve my English - to write my next books even better!