Fourth time lucky? (my browser keeps crashing!)
As I tried to say already, Not so happy with the way this one is turning out.
The Penismobile! (because that's how it turned out, not what I was aiming for).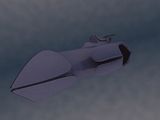 Next step is the wings, then I might cleanup somewhat before deciding whether I should push on with the mechanicals or redo from scratch.
In case you're wondering, the holes in the sides and bottom of the mesh are provisioning for the mechanicals to stick out (I plan on having a very reflective track, so it'd better be neat, eh?:D)