So,I modelled another game character(no head yet,suggestions on the body and the type of head fitting to the body are welcome) and added a quick FK rig to test deformations(there is some IK on the arm where I needed the
pole targets-those have something funny going on too…).
Everything deforms correctly,but when I try some extreme poses,the shoulder goes crazy,which can be understood,the twisting is causing all the bad stuff,but I have no idea how can it be avoided.
If I move the pole to a point where the faces don't twist at the shoulder,then the faces at the hand twist too much.Is there any kind of solution to this?
Topology:


Rig setup:


Normal pose: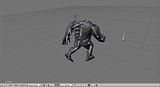 Extreme pose: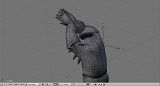 Blend file in the attachment,please do not use it in personal projects.
Clewer
Attachments
alzaxfinal.blend (574 KB)