Long time no see!!!
i know ive been gone for ages… back with a NEW COMPUTER!
everyone in our house is sick with several strains of flu… my mothers gotten it 3 times in a row so far.
ANYWAYS…
trying to get back into blender after such a long haitus… and the programs changed ALOT >.< got to relearn it all over again.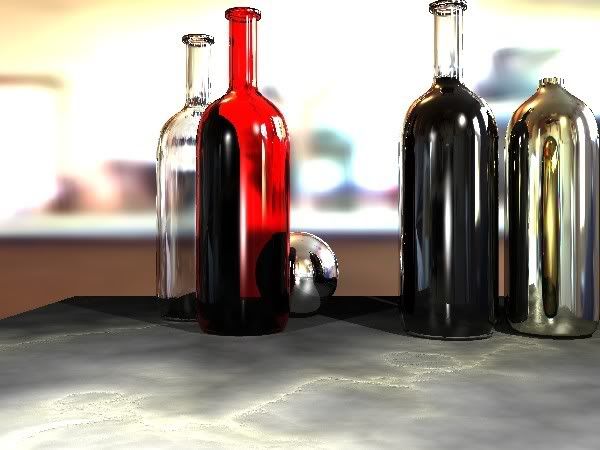 in the aspect of learning the new commands and the ones my old pentium 100 coudlent handle im tinkering with environment mapping… hdri… photons… and the obligatory shiny sphere and booze bottles!!!
ive already learned what most likly already know… yafray is a PAIN!
sure it makes items by themselvs look great… but it seems it cant handle transparency in groups worth squat…
the red bottle and the clear one behind it look great… but where they overlap… its all black… thats no right… and 3 hours of tinkering with the blenders settigns buttons dont seem to help at all.
the second cluster is even WORSE!
clear glass bottle with some white wine modeled inside it… problem is… yafrays problem with overlapping transparencies has happened again… the liquid has turned black… even MORE interesting… i duped the liquid and pulled it to the side… thus the gold shape you see… and as you can see outside the bottle the colors right… but the kicker is… transparency is ON… and reflections on that shape are OFF! yes its a solid object reflecting everything… NO default glass settings on the liquid… i just dont know what to do… any tinkering with the blenders material and raytracing settings dont change anything for any of the problems…
guess ill have to start nosing into the yafray tutorials to see if its a common problem or if im really doing something wrong… but being my headache right now… im just goign to post showing im still alive int eh 3d world… and that im going to go lay down.