"Hurricane Season"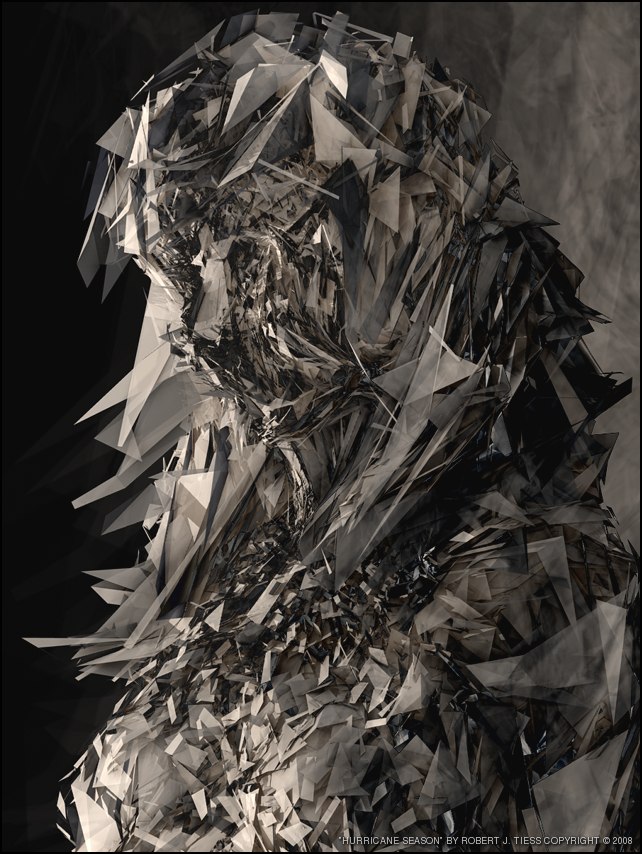 (direct full size image link - expand in browser if necessary)
Thank you for viewing my work.
RobertT
Attachments
Interesting, though I thought I would see more water and maybe pieces of building material due to the title.
Nice work. Do you have some sort of automated or partly automated system to get that effect or is it just a large number of mouse clicks and keyboard presses?
Completely unexpected. Totally awesome.
it could be just a really complex material with warp stuff.
I like the right side and the bottom 5th.
Thanks for the replies!
It's all manually modeled (mainly in face edit mode) with single to several faces (some tri, mostly quad) at a time duplicated, split, rotated, translated, continuously. Some proportional editing is used as well at various intervals as the scene takes shape.
So, yes, a lot of manual work (and a lot of verts).
The material is slightly transparent so some mesh parts shows through others.
It's a technique I have used in some earlier projects to certain extents (Autumnullified, for example).
RobertT
cool. Very well done indeed.
What is that? It looks like pieces of glass or lots of paper… Good texturing.
was it a human model at first? like from the shoulders up?
i like it. the level of detail is incredible…
now, this model would make an awesome starting point for an animation: imagine all the pieces floating/moving/reorganising around…wow.
i like the colours too.
hah, i can see it too, if you overlook all that detail… it's a woman
very nice work robert
I'm really glad that you didn't overdo with the saturation this time. I really like this piece. This is something I would love to have on my wall.
Hurricane Season :spin:
I don`t know how you got the feel but I look at it there is no house no people etc…
What is see in there is a complex of the hurricane Stopped it time.
But if you did not say the title I will think its a complex of some unknown world thingy!
Thanks for posting.
Well I ain't in RobertT's head…but for me, this piece might have a totally different signification.
I look at this piece and I see a sad girl with wind in her hair. The title might just be a metaphore to describe a season/peiod of time during which one is sad. The hurricane being the mash up of emotion in one's head.
but that might just be me.
and seriously RobertT, I love this one. Very nice work.
Beautiful, but for al its wonderful double imagery, the girl made out of chaos i believe it can be improved upon. Mostly i thik the "face" could use a bit more clarity and emotion.
I look at the art work this time and yes!
I don't know how you (and others) seen the girl but i see it to this time
I`m ashamed :o
love it robert, particularly as you seem to be moving away from the retina-burning colour palettes you often use!
I saw this on CGTalk originally, and had to come back to this forum to comment on it.
I think this is a fantastic piece. The scale changes throughout really define this piece for me.
I couldn't help but wonder about some different lighting, maybe with a little bit of color in it.
awesome work
yea me too. To me this work is the perfect example of the meshing of computer aided design and actual art! I love it! I am not really into abstract that much and I still love it. kudos!
and yes I see a woman too