My first try at blendering. All of this is a first for me, modelling, texturing, animating, logic, everything. It's slow, learning on the go, but enjoyable.
So my idea is a kid gets separated from his family in a storm while they are migrating to the winter village. Stranded on an island he must survive employing all the available rescources using actual survival tecniques. I would like the game to be mildly historically accurate (I have some ideas that might stretch that a little), and very realistic with respect to survival. Hunger and hypothermia will be the first two enemies encountered in the game. I guess it could end up kind of educational in that sense. Anyway, without revealing too much, some screenies.

Some of this has changed since I made the screenshot. I made the character a bit more childlike so he can grow up as the chapters continue. The menu is basically the same but without him in the background. Though I still like the thought of him going throught the actions of making a knife and all.
One source of food.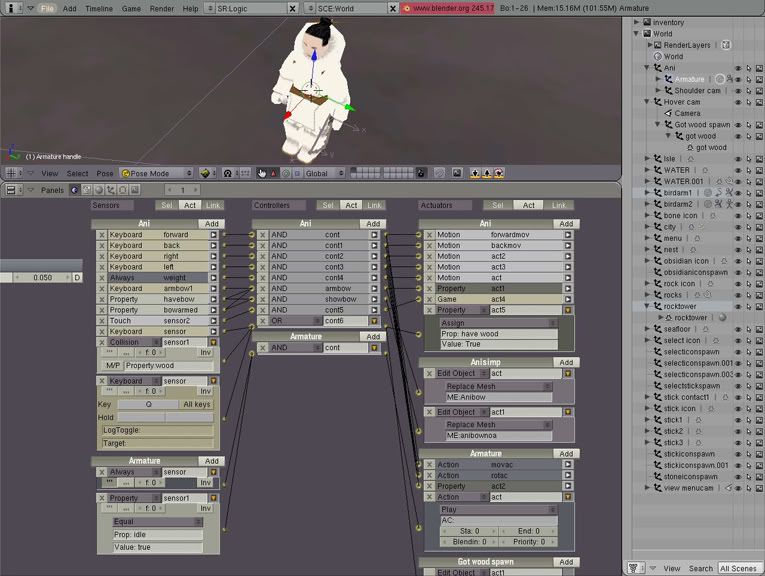 Eventually I may need to ask for help with scripting, the logic is getting a bit hairy:eek:. I am hoping if I can show nearly complete game, someone would be willing lend a hand with Python. Long way to go till then though.
This is what I am really looking forward to.:eyebrowlift: These will come into play possibly in mountain and tundra chapters.
Something like that.
Edit May 21: A quick demo. I definitely thought twice about posting this demo because it is sooo small and featureless. Right now all you are able to do is pick stuff up (G) and they appear in your inventory (I). I know of most of the bugs, I just want to hear some opinions. On my list of things to do is add more shoulder/head movement to walk cycle, figure out why the camera won't always switch between the camera and the character, put in some camera controls (i.e. rotate), reconnect the birds (had some problems so i disconnected their logic). Oh, and figure out how to make the weapons become available when you click on the correct combinations of materials. Any ideas on that one? I think it may be beyond the realm of logic bricks, but I'll keep trying. So, finally, here she is:
http://www.savefile.com/projects/808642519
<-----DELETED
Edit:
New Demo
. Includes campfire (W key), view switching (I key), pick up (G key), status bars indicating hunger and warmth, and one bird that nearly works. <----DELETED
Edit June 7: A
new .exe demo
without the .dll files. I assume that if you are on this forum, you should know where to find the correct files on your own PC. This time with an OBJECTIVE! Collect the materials necesary to make weapons. I should make splash screens so I don't have to write this everytime I post a new demo. E,S,D,F = up, left, back, right. W = Make a fire, if you get wet you'll have to make a fire to warm up or you'll freeze to death. G = Check ground. If there is something useful nearby he will pick it up. To attempt to make a weapon, choose the materials you will use and hit the action button. Some of the menu is not complete, but it works.
Edit June 12: A separate
zip with only the .dlls
. Kind of inconvinient, I know, sorry about that.
Please give me some feedback. I trust you all to be brutally honest.
Edit July 7:
He fell in trying to get out on the rocks so he had to make a fire. Not sure where he got the wood from. From here he will be able to spear fish for food. The animations are done, now I just need to set up the spearing mode and a script to jump cleanly. Right now the jump is too much like a cartoon.