Hello all, This is my second Blender project as my first one fell flat:o . Anyway here is what I got so far(rendered with YAFRAY):
Without liquid:

With liquid: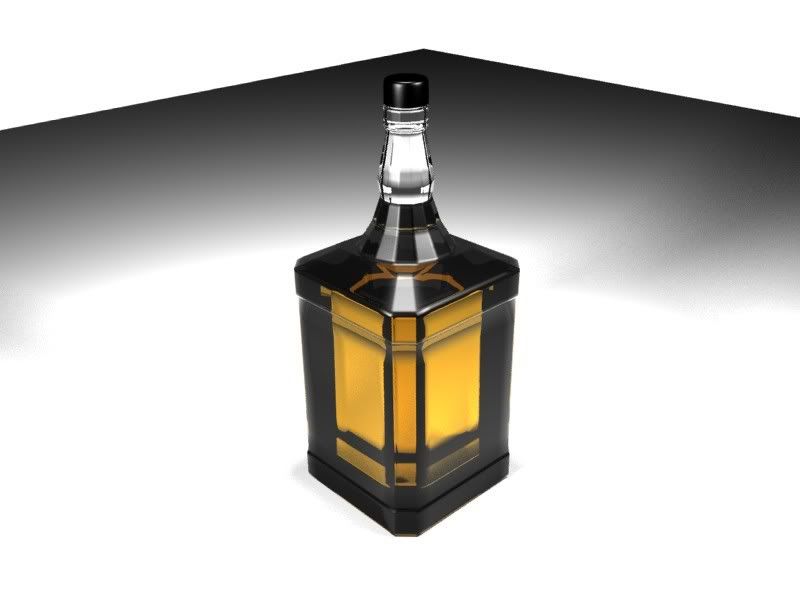 I have a few questions.
The way I modeled liquid inside of the glass is by duplicating the bottle, other than a little bit of the top of the bottle to leave some of the bottle empty(cause i'm going to have a glass with some jack in it later on). Then I scaled it down like .1 so they wouldn't mess with each other. The material I used for the liquid inside the galss was the YAFRAY preset called "colored glass". Was this a smart way to make the liquid in the bottle?
Another question I have is about the lighting. Right now I have 3 Area lights each with 3.0 energy and 4 Shadows and photons samles. I have one to the left of the camera, on the the right, and one right about the bottle looking down. I'd realy like to get the same amount on light in the picture but still have shadows casted on the floor from the bottle. Any ideas on how to do this?
Thats about all I have to ask. Also just remember that this is only my second Blender project so take it easy and try to keep the technical talk down to a minimum
.
Thanks
n64314–