Working on recreating a character from one of my novels(which I never finished.) I number it in decimal versions. This is version 5: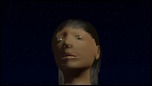 I'm not sure where I'll go with this once I finish the head. I might go on to make an entire 3D character, but I'm not sure if I'm willing to commit that much time to this yet.
I thought about posting this is Focused Critique, since it needs a lot of that, but I decided WIP was more fitting for now. I might post in FC once I'm almost done. Please do give critique, and don't feel bad about sounding mean/harsh. It's better for me to come away having learned something than having my petty little pride un-trampled.
Rendering internally right now. I prefer Cycles, but it doesn't do non-converted hair, which will be a major problem if I ever decide to animate/simulate this mesh.