Preamble:
I'm starting a new project. My first in blender 2.6+
I've made a lot of projects in 2.49b, some of them were even finished.

This is goign to be quite simple project, but it will have the potential to be a wrapper (a game containing a mini game) for a simple Real time strategy game, which I've been wanting to make for a long time.
My goals are:
Make the game fun, and make it easy to play but difficult to master.
Don't add too much detail.
Influence:

In his book "Leviathan" Thomas Hobbes helped to outline the beginnings of the social contract theory. I feel that the book also illustrates the way that different religions tend to shape the government of their followers.
If you've played Civilization, you'll be familiar with many of the concepts of the game I'm starting here, Cities, yields, armies civics, technologies etc… And in the past I was content to mod that game. However, I'm not completely happy with how it works as a history sim, in the end it's just a game, where the aim is to win, by defeating all the other players. Powerful nations grow and grow, while weak nations only shrink. You could change this by introducing revolutions, or dark ages, or plagues, but overall these mess with the central idea which is growth.
But what if we change the central idea? What if the goal of the game is persistence? Create a small, stable, dynamic nation which can withstand revolutions, dark ages and the black death and reach the end of history with a wealth of culture and knowledge.
You can find a text file at the end of the post which outlines some of my ideas.
Preview images:
Here you can see some of the map data which forms the base layer of the game. Here I've recorded information on crop yields, mountain height, sea level and resource availability. When a settlement is created, it will use info from this layer (saved as a list of lists) to specify the productivity of the settlement. It will also be used to check an armies ability to travel to a target to engage in war or the ability for one city to trade with another using A*.
Want to send a caravan of timber and spices to Beijing? You can send it by sea, and it will take 10 turns. Want to invade the Island of Crete? Sorry, your army doesn't have any galleys and Crete is not reachable by land. Choose another target.
I plan to develop the game and then later use it as a wrapper for a real time strategy element. Each turn you will be able to personally lead a certain number of battles at the RTS level, loading up another scene where you can lead the units of your selected army against an AI on a dynamically generated map. For now I'm working on the History sim part, and when that's done I'll deal with the RTS layer as an expansion.
Info text saved as a zip file so that it can be uploaded directly.
EDIT: I'm ging in a new direction with the style of the game and I'm going to be working with a tileset based map.
You can find a good tutorial on using tiles here:

At the moment I havea very early working model of the tileset in action. I've not added the voerlays yet, or the transitions, just the basic tiles, but you can already see that the game runs fast and I'm able to get information about the position of the cursor.
At first I wanted to make every tile have a mouse over sensor, but the logic and physics drain was enormous. So now all the tiles are set to no collision and a giant plane acts to capture the position of the mouse.
I'm going to be working on the terrain overlays next and trying some ideas to get rid of the lines that apear between the tiles when you are zoomed out. This could be as easy as making each tile texture a seperate image.
Anyway, here's a preview: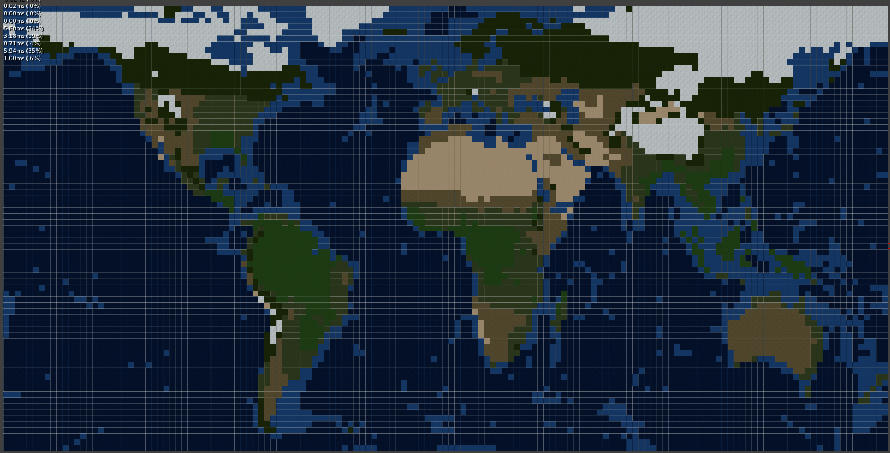 And here's the blend file:
(blender 2.65a)
Attachments
info.zip (3.01 KB)