This one is called "Mandrill Rush":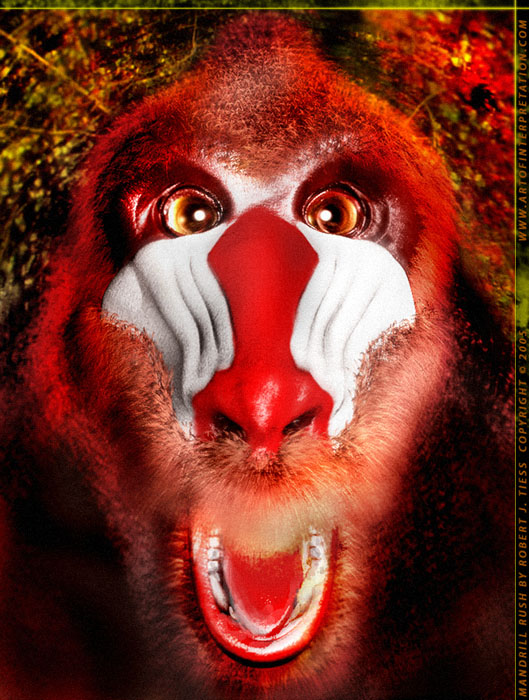 3D views:

This was modeled and rendered in Blender 2.37a.
Only standard particles were used for the fur (probably about 300k hairs). After some quick LCSM, I used Zbrush simply to paint a quick color and spec map. Blender procedural textures were used for bump mapping.
Saturation and levels were adjusted in post, along with some slight DOF application and a faint duplicated layer of the image set to a radial blur to enhance the oncoming "rush" of the mandrill approaching an unwary photographer who may have gotten too close. Hairs and eyes were dodged and burnt in a few places as some finishing touches.
Eyes are actually two sets of spheres, with the outermost sphere for each set being transparent and refracting, but all reflecting. Eyes, like the hair particles, are on their own layer, and are illuminated individually. Eyes are lit by four horizontally opposing sun lamps (forming a t shape in top view). All lights are "layer only" types. Placing certain parts in different layers sometimes can lead to more interesting and customizable results for a scene
The fur is back and front lit by an omni ray lamp. Various portions of the head and basic body mesh were duplicated and used as particle emitters. These were duplicated several times, with a minimum of 30k particles per mesh portion, then stacked. Each mesh's particle effect settings were varied slightly so the fur was more randomly and fully dispersed and a little more natural looking.
Thank you for viewing my work,
RobertT