Hi
I am in desperate need of help… yes mental help as well, as result of this problem… Ok this is my first post on Elysiun so I don't know if the image links are going to work. I have just started using blender (on cue everyone groans), I have also acquired, at the same time, Cinema4D and Light wave. I chose to model in blender because after trying each in turn I found that blender was the most intuitive in terms on modelling (having only one edit mode. all commands are accessible from keystrokes and the spacebar, etc…), I also love the idea of working with open source software (not however, always, loving the reality) and finally I chose blender because the renders that I saw online seemed to show that blender or at least Yafray could create the images I needed.
I am modelling this fire ant:
I found massive amounts of information on modelling in blender and was able to create a model that I find acceptable. This is a very basic rendering of that model.
The first problem I have is in creating the hairs that are on the ant (you can see them in the above picture), the only way I can see of doing this is with 'dupliverts' but I cannot see how I can cause the duplicated hairs to follow the body or how I can have them change length. Additionally I cannot see how to create the small indents that are at the base of the hairs. I thought I might be able to unwrap my model and use a bump map for the indents. If anyone has a better idea how to achieve this I would appreciate it.
My next problem is my biggest. Now that I have my model I turned my attention to applying materials and rendering the final images. I have found that the instructional material that I found so abundant when modelling is, apparently, nonexistent when it comes to defining materials and tweaking renders. There is a wealth of information on texturing and creating simple renders but I cannot find any that will assist me in achieving impressive renders.
For my model I need to produce three final images. The first is a AO or GI render that looks something like:
"An old model of an office chair" by MadMesh using Yafray GI
http://www.xs4all.nl/~niels990/download/GFX/office_chair.jpg
or
"Queen" by AN][ARES using Blender AO
http://www.silentthunder.de/pics/queen/qao1.jpg
The second image will be like a "scanning electron microscope" (S.E.M.) image similar to the following photo. I found a link to a tutorial on this from blender's site but the link and hosting site are always down. Does anyone know what is up with 'blenderman.org' and where I can find the tutorial now?
The third and final image will need to be as 'photorealistic' as possible (by photorealistic I mean that it must try to look as much like the original photos as is possible through the use of materials, lighting and rendering. I use this word with care as there is a thread on this forum where ppl went skitz over the use of the word 'photorealistic')
Now I know this is a big ask from a free and open source piece of software but I know that blender can achieve these outcomes. I have seen many images on this site alone that confirm this, especially in the 'new features' section of the forum. I would love to keep using blender to produce 3d imagery but in order to do that it must be able to take my model all the way to the final render, be that with blender internal or Yafray.
In the process of learning the renderer I completed a few hdri renders. I (may be wrong here) thought that for my final photorealistic render I would be best using a hdri map, as many of the best renders I have seen have used hdri lighting. I produced one using C4D and got an impressive result in a few hrs using GI and HDRI reflection and illumination (yes I know the antialising isn't set high enough):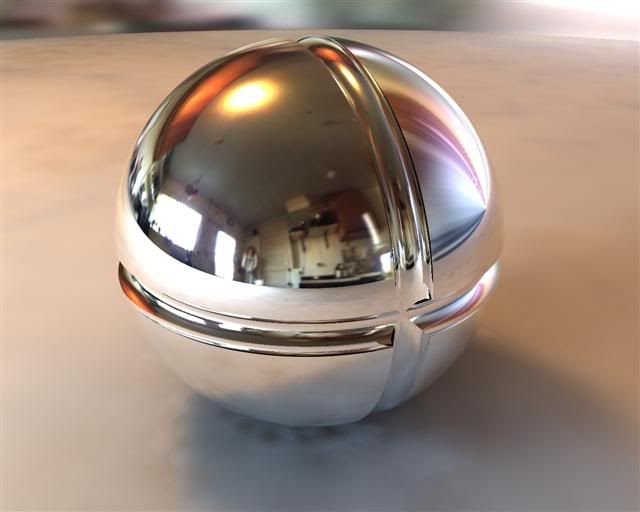 I then attempted the same thing with blender and Yafray from a tutorial I have since lost. Yafray took A LOT longer and the result is far from acceptable. The graininess is awful not to mention the quality of the reflection:
The final problem I have found is that of my render times. Using either blenders internal renderer or Yafray my renders either turn up REALLY GRAINY or take so long to render (24 hrs! and they still don't finish) that I cannot wait for them to finish. I know this is because of AO or GI but there are many images produced with blender that take only a matter of hrs to complete and look fantastic. I have spoken to a few ppl about this and they have all said that my samples, distance or energy are too high. But even with these set low my render times as sill undeterminable due to there length. I must be missing something. I have included my Blend file in this post so maybe someone will be so kind as to load it and help me with this problem.
http://www.users.bigpond.net.au/newbury/ant.blend
Bugger… sorry about the length of this post I just need to get everything out.
So I was wondering if anyone can point me in the direction of an information source on the application of realistic materials and the setting of high quality & rapid renders, I realise that these may be contradictory goals but there must be a way of balancing time and quality so that I can at least see a finished render.
It seems to me that in order for blender to succeed… oops sorry let me start that again. I mean, in my opinion, in order for blender to achieve wider acceptance and use, it must change the opinions of those not only currently involved in 3D (who tend to be entrenched in previously learned skills and software) but also those impressionable novices entering the industry (vis-a-vi me). I think this will be through the exhibition of exceptional work produced by blender artists.
Now from what I see online, the showcasing of 3D applications is highly centred on the production of high quality renders of models that are not necessarily very high in quality or complexity. It baffles me that I have been unable to locate a colossal quantity of information on the creation of 'photorealistic' (there is that word again) and the tweaking for high quality renders with blender. Despite the fact that, in my opinion, blender's success relies on the spreading and distribution of that knowledge to all blender users… WHERE ARE THE TUTORIALS PPL!!!
Ok enough ranting.
For everyone with less spare time than me who has simply skipped my entire post and wants to know that I was going on about:
how can I create the hairs and hair follicles on my ant model above that look like the ant photos?

can someone point me in the direction of information on or inform me how to create:
-A fast rendering AO or GI render with blender.
-A 'scanning electron microscope' S.E.M. render like that of the 'former' blenderman.org.
-A render of my ant model that is as close, to the macro ant photos at the beginning of this post, as possible, and so achieve 'photorealism'. Through the use of material settings and render settings.

Finally can someone inform me as to why my renders are taking in excess of 24hrs to render on my p3 700 from the linked blender file. Also why can I not see the progress of my renders in the internal renderer. Whenever I finally get the blender render window up it is just white while it is processing.
Ok I am SORRY about the length of this post.
It just got out of hand. I feel that there is so much to learn and there is no cohesive collection of information on the topic.
I hope someone has the time to reply to this post as it would be very very helpful. And if anyone has the time, producing a comprehensive tutorial on material and, more importantly, render settings would be Fantastic! Who knows, if I can learn enough through this I would love to write it.
http://www.users.bigpond.net.au/newbury/ant.blend
Many Many thanks
David