Lets face it, it's unlikely that you're going to get a real job as a CG Artist that requires Blender knowledge as a prerequisite. Most of the big companies today use either 3DS Max or Maya. Since my dream is to be a CG Artist at a prominent visual effects company (like pixar for example) I decided that I need to start learning Maya before I actually start taking some courses for it. This way, the classes will fly by and i'll have a degree before i know it = )
So I went tutorial hunting and found a really nice screwdriver tutorial. (I'll dig up the link later) To my delight, I found TONS of useful features and attributes to play with. Believe it or not, Maya and Blender have some shortcuts in common. For example Shift-D (duplicate), and Alt+LMB (rotate persp. view) have the same function in both apps. I found the workflow came very naturally to me after I got used to some of the shortcuts (mainly QWERTY).
Anyway, here's a screenshot: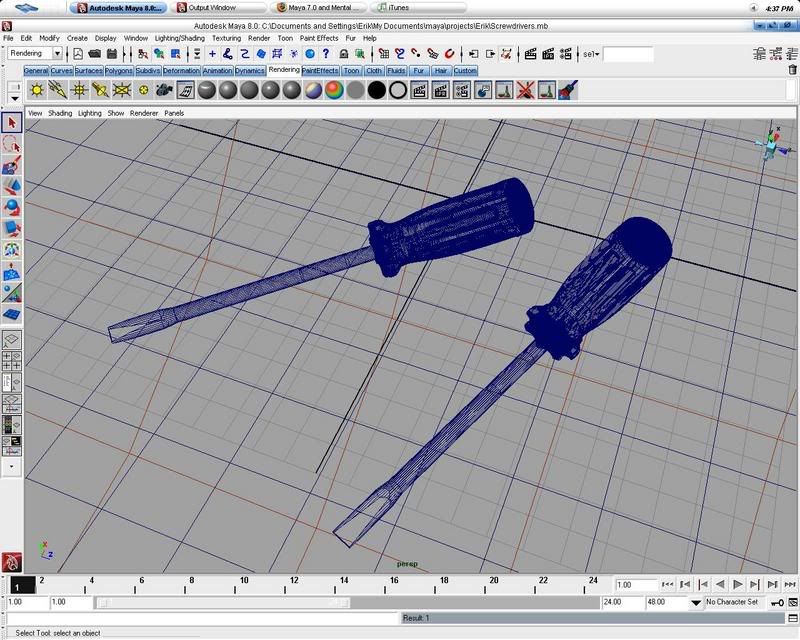 And here's my final render:

Took me about 30 mins from start to finish, not including rendertime (which was 8 mins). Not bad for a first render eh?
Edit:
Here's the link to the tutorial: http://www.highend3d.com/maya/tutorials/modeling/polygon/239.html
Also, if anyone would like to see the maya binary file (.mb) i'll be happy to post it here, just ask = )