UPDATE
EDIT: This is an EXE i will post the .blend later today.
http://www.savefile.com/files/304940 DEMO!
When you get into the game the camera will be facing the sky, move it around a bit until you get a good view!
CLICK TO SHOOT! and move the mouse around to look around.
W = Forward.
ENJOY!
Hello all.
I've been making this crappy little game for 2 days!
Here's the story line:
Santa's Spies tell him that an army of little goblins is going to steal the presents out of his sled on christmas eve. You have been hired to put a stop to it… by killing all of the goblins

It will include: 4 levels (You will get a new gun in each level)
First Level - Park. you will receive a pistol (and you can knock the slides around for fun)
Second level - Suburban Area. (Narrow Streets) you will receive a shotgun
Third area - Compound. you will receive a m16 (rifle)
Fourth area - Secret Goblin Village in the woods. you will receive a FLAMETHROWER and i'm HOPEFULLY going to make it so you can set the enviroment on fire

anyway, now onto the screens:

Main Menu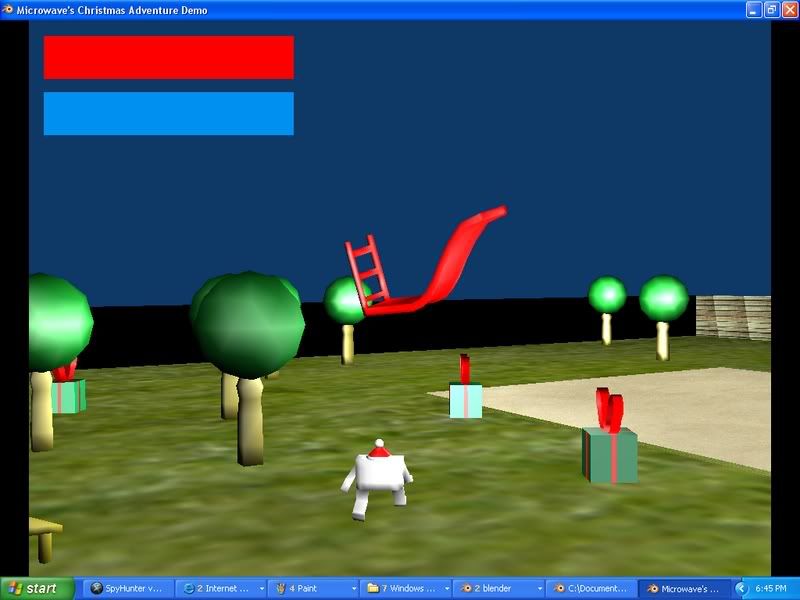 Playing around with the Scenery
Knocking the slide sky-high
I'll have some more pictures soon.