Totally Blender. The teacher I made the characature of teaches 3D animation using Cinema 4D, a very good program with a ray tracer.
I made this to show him the power of Blender.
I used static particle generators for hair, moustache and stubble.
Pam

PS: I've posted both a PNG and a TGA. The TGA didn't appear on my browser, but might work for others. If you use the link the TGA opens with QuickTime. The TGA shows the hair off in a cotton candy sort of way.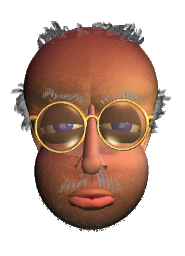 http://www.sfsierrasingles.8m.net/JDglasses.tga