Hello!
I finished the modelling and unwrapping part of my first game character.Polycount is around 5500 tris.What do you think of it?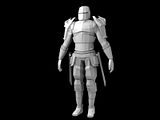 Wires coming soon,I don't have them on the computer what I am using right now.
Today will be the rigging day,I hope everything works out,never rigged a character with armor on it.
If rigging works good too,then the fun part will come:Sculpting!