Instead of just posting the URLS and saying "LOOK!", as was suggested by a friend, I've decided to type a bit more:
After three months of modeling, rigging, and texturing, and only a week of intense animating, rendering and post production, I would like to present to the Blender community my first short film: 'An Urgent Message From J.R. "Bob" Dobbs'
The last few phases of production were hastened by a self-imposed deadline, resulting in a script that was written in under two minutes, and recorded in one take by an upstanding fellow who was on the verge of losing consciousness, but I think it turned out rather well.
Here's a little image preview of it, though the head never appears from this angle in the film: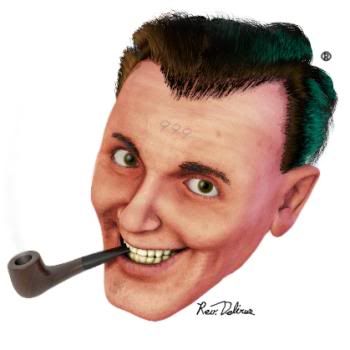 Made entirely in Blender, the Gimp, Audacity, and Avidemux, here it is in two sizes:
720x480 35mb Xvid AVI:
http://s9.quicksharing.com/v/1695377/Urgent_Message_Xvid_720x480.avi.html
360x240 7mb Xvid AVI:
http://s9.quicksharing.com/v/9869484/Urgent_Message_Xvid_360x240.avi.html
(these links will stay active for thirty days after the last download)
Anyone who watches this film will probably be very confused by the content. So here are the relevant wikipedia articles. (So don't email me with questions about this "Bob" person… that is, unless you have a donation handy :D)
http://en.wikipedia.org/wiki/Subgenius
http://en.wikipedia.org/wiki/Category:Church_of_the_SubGenius
Blatant angry criticism and glorifying praise are equally welcome. This work is presented "as-is" with no license of any sort. Do what you want with it, (I'd prefer that you credit the proper pseudonyms in any derived work, but won't say anything if you decide not to) just keep in mind that J.R. "Bob" Dobbs is a registered trademark of the Subgenius Foundation.