It will be called 'Deep Delver' and is for Victoria 4 and Aiko 4, probably support for She-Freak as well. Here is the base model in Blender: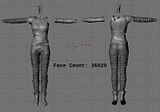 The hair clip is to go on a freebie hair that I've made a custom morph for, for when I get to the promo renders in DAZ Studio.
Modeling, bone weight copy, UV mapping and .obj export are done. I'm currently in process of setup in Poser and DAZ. The BWC tends to give too few verts to the hip group between the legs so I had to do that custom, and at the moment Poser won't export any skeleton Blender can read, so all animation/deformation testing has to be done in Poser/DAZ.
Rigging any pants/leg item for Poser also entails custom fit morphs, because again, the way Poser handles weights means that a pair of pants that fit Victoria 4 in default pose will clip horrendously when her thigh bends more than about 20 degrees forward. This means I have to export the .obj again from Poser (it changes vertex order when creating the library file for the clothing), edit that .obj in Blender, re-export, re-import to Poser and name and test the morph.
I've got the shorts done and the leggings done and am currently troubleshooting morph support on the leggings.