Took this picture today of my home town.
Anyone else got pictures of where they live now or grew up?
That is one beautiful photo. I would love to live in a place like that. Instead, I grew up and currently live in the middle of the flat Canadian prairies. No oceans, no mountains, just lots and lots of wheat and snow. To post a picture here would depress everybody.
You look out your window, and you see a gorgeous ocean and green hills. I look out my window, I see the back of a garage. :-?
Grr im stuck in cold Alaska, oh well i get a glacier in my back yard!(Seriously)
This is not out any window, I'm on a road above the town. I no longer live there, that is where I grew up.
I did a trip across the Canadian praires, many years ago. Because I had always been surrounded by hills and mountains, I found it awesome to be in such a huge, flat place. And we hardly ever get any snow here, so that was interesting as well. I really enjoyed my time in Canada, nice country.
I don't want to make you too jealous
but today was a really nice day so I also took this photo from the front of my house as the sun was setting.
Cool :D, we need a picture of your glacier.
hmmm check out this image of the same location.
i knew exactly where it was the first instant i saw it. then i needed to confirm my suspicion by finding another image from the same angle
http://www.ceri.memphis.edu/~bodin/Trip/NewZealand/TaupoCOTM/images/KapitiCoastPan.jpg
Alltaken
I was living in a beautifull valley in the apalache, a chaine of mountaine in quebec. Was living on a farm. just here
on the little road in the middle of the map.
I already posted it, but here is what i have behind me: The river.
And this is in front of my house pointing East:
The valley
Here is a ponorama of all East Hereford village. I took it on the top of the highess moutain here.
THe panorama
As you can see, we realy live in mountains.
youcan actualy see the top of my valley, it's here the light-green spot in the middle is actually the field from the valley snapshot. but just the top of it, we are very deep in the earth.
here si the website of the village. http://www.municipalite.easthereford.qc.ca/
as stated somewhere, East Hereford was rated as one of the 20 most beautiful towns in Quebec by L'Actualité in 1997.
the name Hereford come from our fellow england pp who, in the history of Canada, was running out of USA on independace day. Called loyalist, because they were still loyal to the england king, and Canada was still a colony of england. Pretty cool what history can bake today.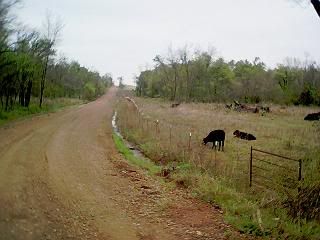 This was actually about 1/8 mile down the road from the house I grew up, I used to ride my bike here though, and it all pretty much looked the same.
This is from the Glacier Visitor Center(its a big tourist attraction) my house is about 2 miles behind the camera.
Indeed you are right :), I grew up in the small town of Paekakariki, and my photo was taken from the exact same scenic lookout.
Love the glacier, looks spectacular, and Quebec is very pictureseque.
and for all you nothern hemispheries, ahhha it's summer down here
http://www.amerika-live.de/Brasilien/brazilien2.gif
Florianópolis, Santa Catarina, Brasil
Last year became kind of famous with the only hurricane on the South Hemisfere, and with a blackout that left us for a few days in the dark after a fire on one of the bridges (the power lines go inside the bridge)
Ibstock, England:
Me and my dog taking a walk