Hello all,
I'm a new here and blender. So my skills are not high.
Maybe some1 asked the same question before, but I didn't find it. I've got two different scenes
The first got about 9 million tris and the second got only 90k tris. The first took me with clamp settings etc with 1000 samples and a very high resolution about 6 hours. But the second image took with the same settings the same time.
Maybe I did a critical mistake and didn't see it. I'm sorry for my bad english. Hope I didn't forget anything. Thank for your support.
first rendering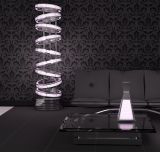 second rendering