I got my hand on a good book, "Blender 2.5 Lighting and Rendering," and I thought I would attempt to create a simple interior design.
Here's my 1st test scene. It's strictly an AO render with 1 area lamp outside the bathroom's window.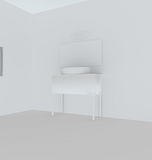 As always, I appreciate any C&C. I realize it may be too bright to see anything.