I decided to start up on a speedskating game and I think I have everything planned out fine this time thanks to Social's awesome tut.
At the moment, I'm working on animations and I'm still deciding what to do for gameplay. It's either going to have separate keys for crossovers around the corners or when you hit the corner's material it will change what they normal keys do. It will possibly have a stamina meter and if exceeded, your skater drops out of the race. The game will include both long track (400m track) and short track (111m track) races.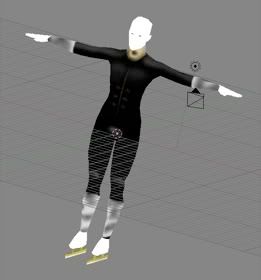 At the moment, the skater looks like Michael Jackson so I still have a little bit of texturing to do.