Long story:
I have a large - LARGE - project waiting in the wings, and have had it there for some time. I've done about all I can do on paper. It's planned, scripted, half story-boarded, has partial dialogue recordings and tons and tons of notes made up for it. However, the project requires a lot of effects and the way I've got it planned is very different from other animated projects / shorts out there. I'm going to do the thing with low-spec / game-type models. There are a number of reasons for this, but speed is the primary one. That I also happen to love old-school, Playstation One style 3D graphics is the second one.
Dunno if anyone else has tried it, but I've found it to be difficult to say the least. 3D tools - Blender included - are not designed to be friendly with 500-1000 tri models and 128² 256² or 512² texture resolutions for pre-rendered animation. They're designed to make shorts that look like Elephants Dream or BBB. Pixar-style, if you will.
Anyway, I decided to work on something much much simpler first. I came up with another short idea that would be much much shorter (like 30 seconds) and that would be something I could test out some different approaches to the models / textures / designs / etc. That project was called "Super Ultra Robot Ninja Death Squad". I also ended up thinking up a second project along the same lines (sort of a 'sequel' to it) called "Cute Must Die". I won't spoil them for you yet, tho
Anywho, I was working on S.U.R.N.D.S., making a character, and the modeling went smooth. The texture and lighting and various other aspects of it were not satisfactory. Here are a couple of examples: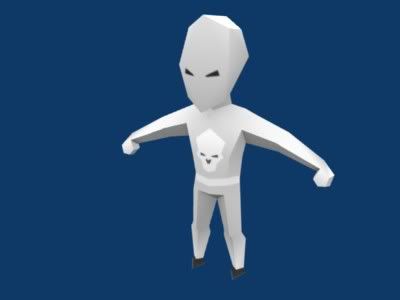 As you can see, it's somewhat stylized. The textures are very simple (almost nonexistant, actually). The lighting in the last one is a hemi + AO. None of these really looked the way I was hoping they would. I decided I needed to play more with modelling styles and especially do a lot of texture painting. And so this thread is born. It will contain all of my work, and will thus be an endless WIP. These projects have been secret for some time, but the only thing that keeping secrets ever got me was a lack of actual production. This is me trying to be productive.
So here I go: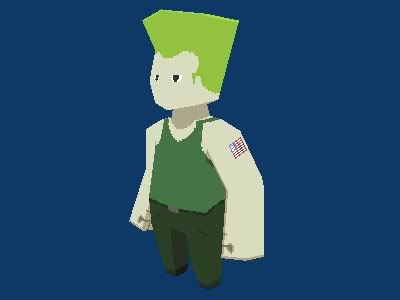 Guile from Street Fighter. Texture is 128² and the model is - if I recall - about 180 tris.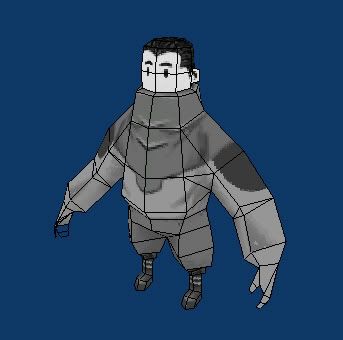 This is a dude I drew up for a game project eons ago. I've got about a dozen more from the same game concept that I'll be WIPing up for practice. This guy is currently sitting at 398 tris and has a 128² texture. Sticking to grayscale for now with the texture. Hoping it will make painting it easier. Then I'll add color later on.
I fully plan on releasing all of these models under CC when they're finished. Some of the BGE users will probably be able to use them, since they'll all end up being somewhere around 500 tri's, give or take a few hundred.
Sorry for the long post. I just love making long posts so much