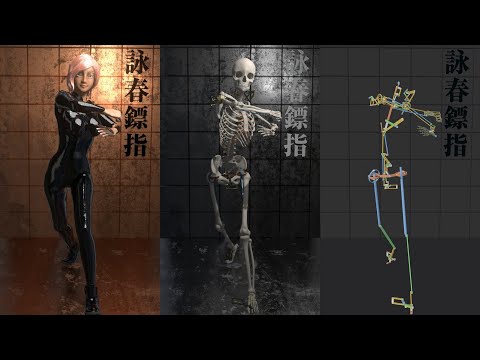 This biomechanical finite element analysis (BFEA) will contribute to increase the force of Kung Fu sisters and brothers.
Biomechanical simulation of Kung Fu data download
http://varipon.com/index.php/work-plan-2/kungfu/
–
хребет і талія, які є найбільш езотеричним рухом
Її концептуальна хореографія дала мені ключ до розгадки цілісного механізму хребта.
https://www.facebook.com/yutaca.sawai/posts/2426558307574568
–
Biu Jee "鏢指" is a set of attack-based Wing Chun which has always been regarded as a "secret" in the Chinese traditional martial arts. The most important thing about this skill is to learn how to make changes and make another attack after the attack fails.
Life is more likely to fail than success. So the skills for resuscitation "起死回生" are most upscale and confidential. It extends not only to skills but also to ideas.
"The name 'Biu Jee' came from the 'Moon Pointing Finger' of Zen Buddhism, Literally, it means, 'look at the moon, and forget your finger'. Meaning you should focus on the next step, instead of defeat or victory." - Master Lui Ming Fai
–
The diamond rhombus configuration (Remastered version)
« http://varipon.com/index.php/work-plan-6/diamond-rhombus-configulation/ »
Tan Da - Dispersing & Hit
Wing Chun master Shaun Rawcliffe
Lineage Ip Chun
Midlands Wing Chun Kuen
http://www.wingchun.co.uk/instructor.htm
SIMPLY… WING CHUN KUNG FU
https://www.amazon.com/Simply-Wing-Chun-Kung-Fu/dp/1861265964
Image may contain: 1 person , text
Combination : I. Bong sao II. Lap sao III. Fak Da
Wing Chun grand master Yip Man and Bruce Lee
http://www.kwokwingchun.com/about-wing-chun/ip-mans-wing-chun/ip-mans-biography/
Combination I. Bong sao II. Tan Da
Chu Shong Tin the King of Siu Nim Tao
Lineage Ip Man
Chu Shong Tin was Yip Man's third Hong Kong disciple. He is known as the "King of Sil Lum Tao" and "Internal Wing Chun".
Chu Shong Tin Siu Nim Tao - compilation
DVD & Books
http://www.everythingwingchun.com/chu-shong-tin-wing-chun-dvds-books-s/125.htm
Tan Da - Dispersing & Hit
Wing Chun master Lui Ming Fai
Lineage Ip Man
Lui Ming Fai Wing Chun Study Society
雷明輝詠春研究會
http://luimingfai.wix.com/vingtsun
KUNG FU QUEST - WING CHUN EP 3 (ENG SUB)
"Wing Chun" Documentary
Combination
I. Man sao (Asking) II. Lap sao (Deflecting) III. Pak Da (Clapping / slapping & Hit)
Wing Chun master Samuel Kwok & KWCH.ru
Lineage Ip Chun , Ip Ching
Grand master Samuel Kwock & KWCH in Russia (Moscow)
https://www.facebook.com/kwch.ru
http://www.warriorwingchun.co.uk/samuel-kwok/4573965031
http://kwokwingchun.ru/novosti/vnimanie-zanyatiya-letom-v-moskve-i-mo.html
Fak Da - Whisking & Lower Lying-palm hit
Tai Chi master Cornelia Gruber
Lineage John Chung Li , Bow Sim Mark
School of Tai-Chi Chuan Cornelia Gruber-Bilgeri
http://www.taichichuan-cornelia.com/en/
The Taijiquan & Qi Gong Federation For Europe
https://www.facebook.com/groups/854929414638845/
Bow Sim Mark Tai Chi Arts Association
https://www.facebook.com/Bow-Sim-Mark-Tai-Chi-Arts-Association-114431485311811/