This is a final render from my F1 2006 project called "The Great Sea Race Begins," where racing continues underwater in a futuristic but flooded Earth.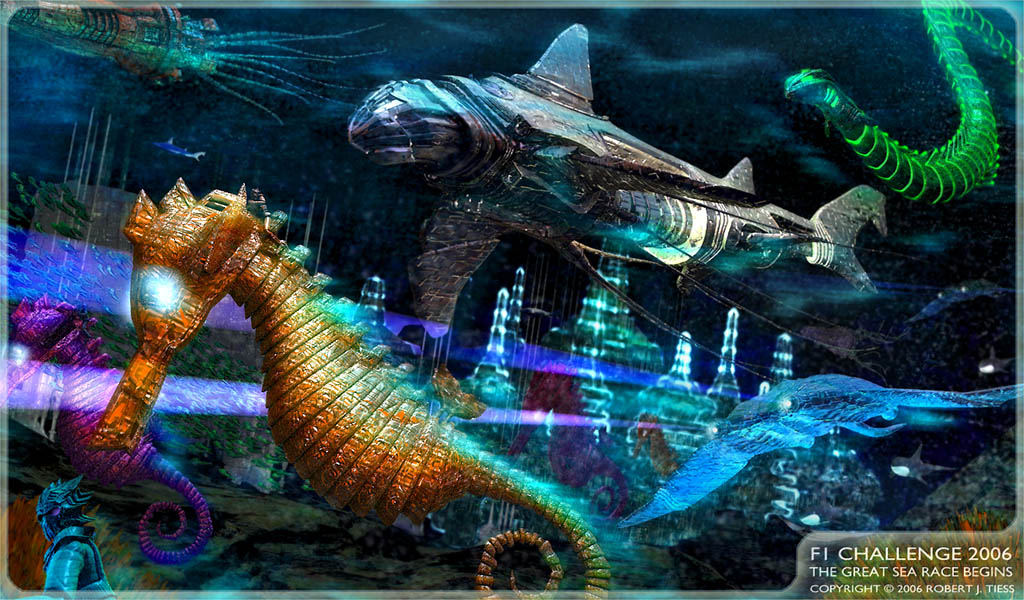 Here is a look at the 3D view: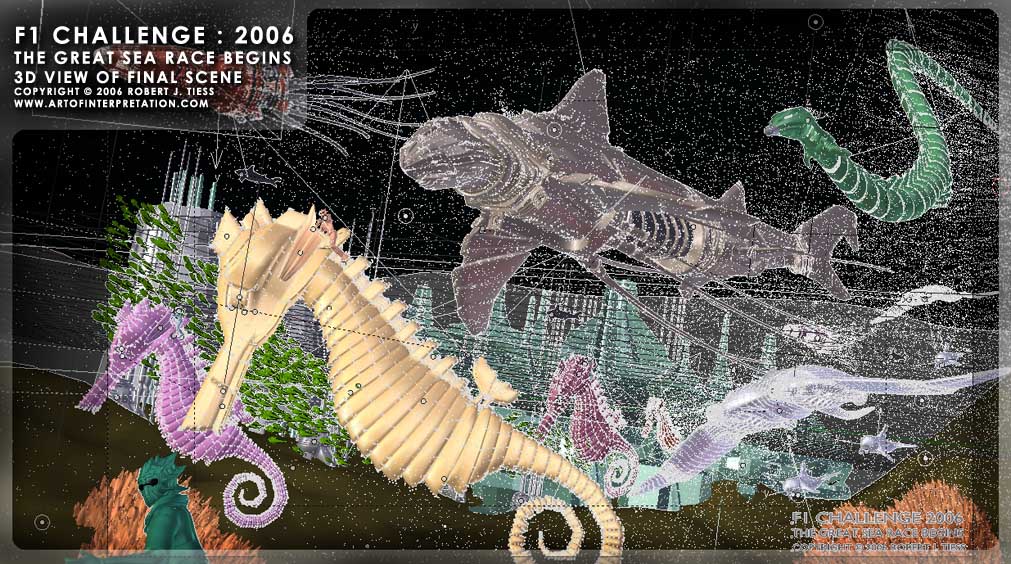 Since the WIP thread, this project continued to experience numerous changes, compositionally and stylistically. Test renders took anywhere from 4 - 10 hours each over the last couple of weeks. Motion blur tests took many times longer, too long, so mild zblur was used instead along with numerous particle systems and three faint wavy planar overlays of oceanic patterns/noise situated in front of the camera.
16 layers, 368 separate objects, 35 lamps (many set to "layer only"). Low AO subtract-only was used to help accentuate shadowing. This last blend is around 100MB. There were 43 blend stages up to this point. After several weeks of continuous adjustments and refinements in all areas, I knew a decidedly fantasy treatment suited this piece best, not realism, and that this render depicted the image nearest to the one in my mind when I first conceived of this project.
Thanks to all of you who contributed your insight and encouragement in the WIP thread. The "one goal" I briefly alluded to in the WIP thread was not "to win" (I doubt I will) but to create something visually interesting and challenging to me on multiple levels, which it certainly was, especially considering all I wanted to show in the environment I selected in the month I set aside for this.
As the rules permit, some contrast and color correction was necessary because I made this entirely on my laptop, which, despite calibration efforts, is not identical with my desktop monitor in terms of contrast or hue. Blenders internal post controls were also used.
Blender 2.40 (optimized) was was used instead of v2.41 regular to help cut down on the render times.
Thank you very much for viewing my work, and thanks again to CurtisS for hosting this event.
RobertT