Hi.
This is my first wip here at blenderartists.org.
Nothing big, just a simpel house.
.:
Mivrex
Small update
.:
Mivrex
Yep another update
.:
Mivrex
wow, thats a really nice house!
Update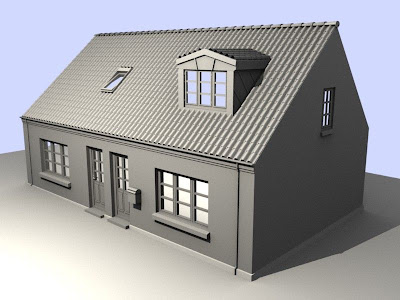 Starting to take shape.
.:
Mivrex
Thanks, happy to hear that you like it
Yea much better than my feeble attempts at architecture. Great job man! You could write a tutorial on how to model a house! I would read it!
Looks great man. All those small details really make it look good.
Another small update.
Testing some materials.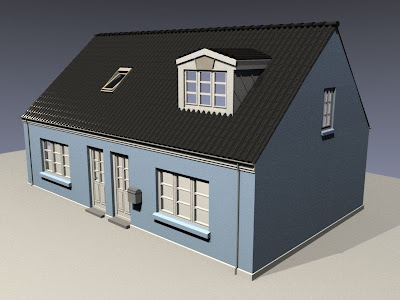 .:
Mivrex
Looks good. I've thought it would be good with buildings if someone modelled the interior as well and made the windows transparent rather than reflective so you could could look in. Maybe a television too to give an extra dimension!
no, looks great, looking forward to seeing what's next!
Update
I think i'm almost done now with the house.
Maybe some minor details and some more edge bevel.
The backside is not moddelled, cause i'm not sure if i'm going to need it.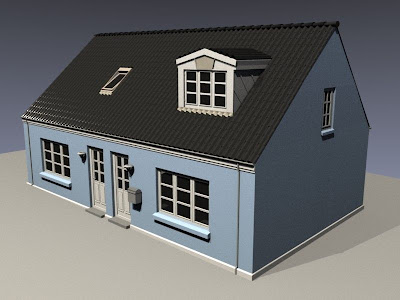 A little higher res -:here:-
.:
Mivrex
that is very nice!! are you going to add a scene?
@ JESUSFRK14There will be an environment.
@ richy76 I have no planes for interior, but there will be a small environment.
@ Dudebot13There is already a good tutorial here
Update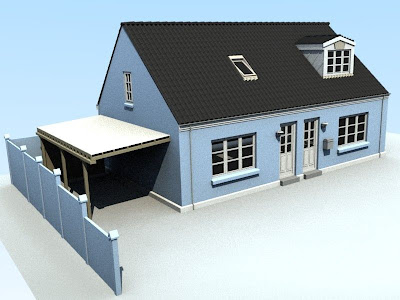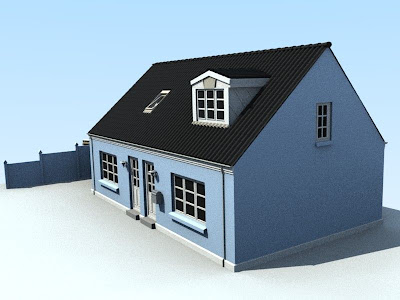 Hmm maybe I need a car in the carport?
.:
Mivrex
Your materials are too clean and that's what makes your model look "digital"- in reality you will never see a house that's so clean
The reason for the very dead textures/shaders is that I need to find out what the diffrent kind of shaders does in BI. Couldn't find any info about that in the manual. Maybe you could give me a hint RK?
For yafray I have found this:
BRDF DIFUSSE MODELS:
Minnaert. It is called the moon shader. It performs back reflection.
Good for porous sufaces and ones covered in dust such as oxides, brushed metals, sandstone, unfinished wood, concrete.
Toon.
Oren-Nayar. Fuzzy surfaces like cloth, wood, skin, velvet.
Lambert. Called the perfect diffuser. Good for plastics, artificial materials and polished marble.
BRDF SPECULAR MODELS:
Wardiso. Anisotropic. Highlights more defined.
Toon.
Blinn. Very similar to Phong, althought the highlight shape is more round in tangent areas and has got a cleaner look.
Phong. Glossy paints, plastics, laquers, polished metals, polymers.
Cook-torrance:
Higher glossiness settings: car finishes, glass, water, chrome
Lower glossiness settings: unpolished metals, frosted glass.
Diffused highlights: Wood, stone, skin.
I would like to see a list for blender internal render. But still I have not had any luck in finding this.
.:
Mivrex
Well- I am new to Blender myself so I will not help much but rather then type of shader I ment stains on walls- from running watter, dust and such. Ones that appear under windows, under roof etc. Dirt simply speaking. I would use color/bump texture with combination of Lambert and Cook torrance but that's just me- newbie. Your modeling looks great (I think I mentioned it before), now it's all matter of materials.
Update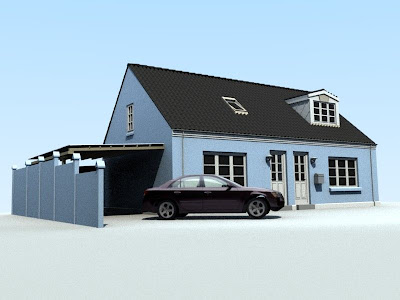 .:
Mivrex
Nice house! but like the others said, the materials are too clean.
P.S. Did you make that car? It's really good!