I am trying to make a plane with hair strands UV mapped onto it. I painted the hair strand image in the Gimp, with a transparent background, and saved it as a .png. In Blender, I added a subdivided plane and with everything selected in UV Face select mode, opened HairStrandImage.png in the UV/Image Editor window. I added a material to the plane, set the material to TexFace and ZTransp, but when I render the image, the space between the strands renders as black rather than transparent.


I then reloaded HairStrandImage.png with the Draws Image with Alpha button pressed, hoping it would make a difference, but got the same result.
I read manual, found this thread which seemed to be exactly the same problem I'm having, but when I tried their recommendations I still came up with black between the strands.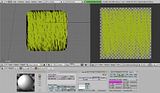 Here's the settings, a potato mode 3d view and the UV/Image editor (notice the transparent background!) I'm sure I'm missing something simple and obvious, but am simply butting my head against this wall right now. Any suggestions?