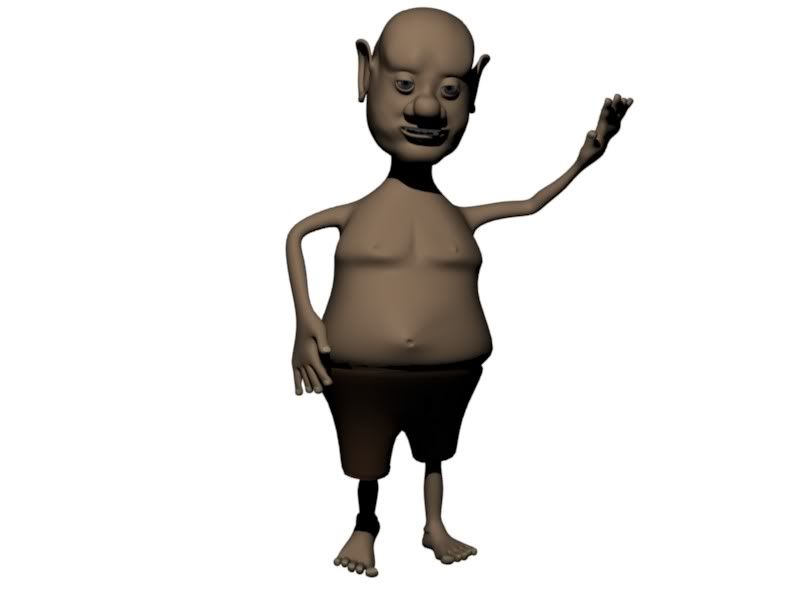 got most of the rigging done… got the hands left and a lot of rvking and then off to animation… don't know yet what it's going to be so any sugestions are welcomed.
nice character i like it but onething his belly button looks weird
some updates … the rigging is completed and I think he looks better without hair. what do you think ?
Thanks / foCus
I was just thinking that he looks better with his hair :). Well, it's, ofcourse, your call.
The ears are fantastic, but the shoulders could use some more refining. Now he doesn't seem to have shoulders at all. Maybe its and artistic style, but I think his arms and legs look a bit thin compared to his middle section.
The hands and feet do look nice also.
thank you RJii, maybe I'll give him some hair when I've played with it some more. I agree the shoulders could use some work but the arms and leggs works fine for me
thanks for replying. Don't get so many replies as you can see
he's got hair now ;)… so what do you think of it ? hair or no hair, that's my question.
excellent character. i wouldn't be able to make it even if i tried. one small crit. the bat looks too smooth and machine made. if its a trool, give it a twig coming out of it, and bumpmap the texture for it to make it more bumpy. oh ya, i personally like the fuz for the troll. gives it more character.
Thank you ralpbluecoat for your C&C. I'll remake the bat so it looks less machine made.
Any thing that you think I can add to the character?
Thanks/ Dan
I liked his 'rough hair' better, from the first picture. Now he looks too much like he just came from the barber.
And wheres his armpit hair? Maybe a troll might even have hairy feet or something?
The necklace looks nice.
yeah you're right RJii, he'd look better with hair on his body i think. but I do think I'll stick with his haircut for now … maybe friss it up abit …