I'm doing a tutorial I found here: http://www.blenderguru.com/videos/how-to-create-a-city. I decided I wanted to change the road image (to one with a double yellow stripe down the middle) in the UV unwrapping. Everything worked fine until I tried to deselect the road in Object mode. All the roads were reversed. This didn't happen when I used the original road image image from the tutorial. But I can't think what I am doing wrong this time. Can anyone tell me how I can keep the road from switching directions as soon as I deselect it in Object mode.
It also renders out with the roads wrong even if they look right in the 3d view window. I tried going back to the original road but now the same thing is happening with that road too.
This is after I changed the image in the UV Image editor and in the Materials Properties Panel: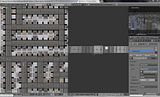 This is after I deselect the road in Object Mode.