I'm trying to do a Gameboy, and I'm not sure how to do the top. Here's a picture of my progress so far: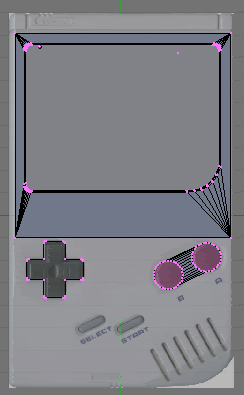 As you can see, I've done the area around the screen (the screen itself is on a seperate layer) and I've started to extend the surface beyond that. My problem is, I'm not sure how to make it around the holes for the buttons. I've already added vertices for the edges of the holes, but I don't know what would be the best approach to connect those vertices to the ones around the edge, or to connect the vertices on the right side of the D-Pad hole and the left sides of the A and B buttons. Should I just connect them to the corners with a massive number of tris (as with the area around the screen), or is there a better way to do it? Did I do the part I've already done wrong?
I really don't know what to do next and I'm very frusterated.